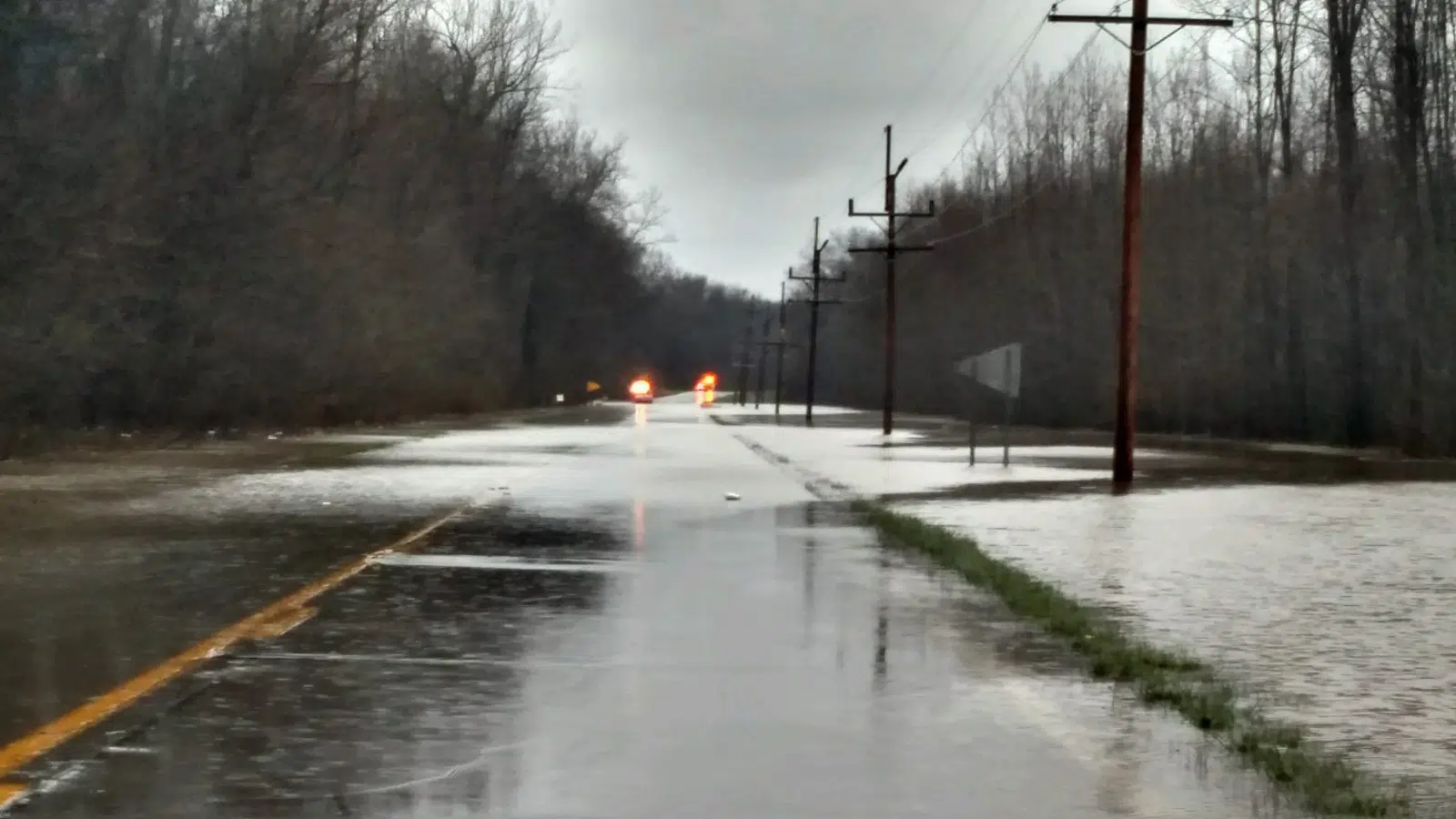 A FLOOD WARNING REMAINS IN EFFECT UNTIL 345 PM CST MONDAY FOR
SOUTH CENTRAL SANGAMON...VERMILION...SHELBY...PIATT...COLES...
NORTHERN CLARK...NORTHWESTERN CLAY...EDGAR...MOULTRIE...CHAMPAIGN...
SOUTHEASTERN MCLEAN...MACON...CHRISTIAN...EFFINGHAM...CUMBERLAND AND
DOUGLAS COUNTIES...
(A FLASH FLOOD WATCH REMAINS IN EFFECT THROUGH THIS AFTERNOON FOR THE ENTIRE
LISTENING AREA)
ANOTHER ROUND OF MODERATE TO LOCALLY HEAVY RAINFALL WILL TRACK BACK
INTO OUR AREA LATE TONIGHT AND CONTINUE THROUGH MONDAY. AN
ADDITIONAL 1 TO 1.50 INCHES WILL BE POSSIBLE LATE TONIGHT AND DURING
THE DAY ON MONDAY...BEFORE THE RAIN TAPERS OFF TOWARD LATE AFTERNOON
OR EARLY EVENING.

FLOODING FROM LAST NIGHT`S HEAVY RAINFALL CONTINUES IN MANY
AREAS...ESPECIALLY FROM TAYLORVILLE EAST TO PARIS...WHERE 3 TO 6
INCHES OF RAIN FELL. MANY SECONDARY ROADS WERE CLOSED...ESPECIALLY
WHERE THEY CROSS CREEKS AND STREAMS.

SOME OF THE HIGHWAYS THAT MAY BE AFFECTED INCLUDE...
 INTERSTATE 55 BETWEEN MILE MARKERS 77 AND 80.
 INTERSTATE 57 BETWEEN MILE MARKERS 142 AND 251.
 INTERSTATE 70 BETWEEN MILE MARKERS 78 AND 150.
 INTERSTATE 72 BETWEEN MILE MARKERS 130 AND 182.
 INTERSTATE 74 BETWEEN MILE MARKERS 165 AND THE INDIANA BORDER.

PRECAUTIONARY/PREPAREDNESS ACTIONS...

A FLOOD WARNING MEANS THAT FLOODING IS IMMINENT OR HAS BEEN REPORTED.
STREAM RISES WILL BE SLOW AND FLASH FLOODING IS NOT EXPECTED.
HOWEVER...ALL INTERESTED PARTIES SHOULD TAKE NECESSARY PRECAUTIONS
IMMEDIATELY.

MOST FLOOD DEATHS OCCUR IN AUTOMOBILES. NEVER DRIVE YOUR VEHICLE INTO
AREAS WHERE THE WATER COVERS THE ROADWAY. FLOOD WATERS ARE USUALLY
DEEPER THAN THEY APPEAR. JUST ONE FOOT OF FLOWING WATER IS POWERFUL
ENOUGH TO SWEEP VEHICLES OFF THE ROAD. WHEN ENCOUNTERING FLOODED
ROADS MAKE THE SMART CHOICE...TURN AROUND...DONT DROWN.

DO NOT UNDERESTIMATE THE POWER OF FLOOD WATERS. ONLY A FEW INCHES OF
RAPIDLY FLOWING WATER CAN QUICKLY CARRY AWAY YOUR VEHICLE.