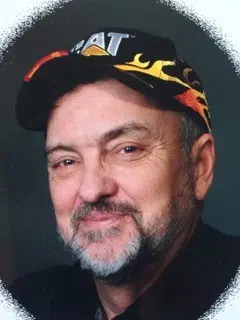 Danny Ray "Boone" Heiland, after a short battle with Glioblastoma, drove his truck on his final ride to heaven on July 7th, 2017 at the Sullivan Rehabilitation and Health Care. Danny was a semi-truck driver and had just received his new red semi which he loved.  He finally won his life's battle with courage and faith against mental illness.
A Graveside Service will be held on Saturday July 15th, 2017 at 1:00 p.m. at Findlay Cemetery with fellowship afterwards at the Tailwinds Steakhouse in Findlay. All are welcome, casual attire. Lockart-Green Funeral Home in Findlay is assisting the family.
Danny was born January 4th, 1954 the son of Don and Roberta Heiland.  Danny leaves behind his friend Joanne Kearns and his children: Daphne Killam, Dustin Heiland, Kimberly Ray, Danielle Hathaway and Alanna Stewart. Family cherishing his memory are his uncle Henry and aunt Doris Heiland, aunt Thelma Blackburn, sister Sherry French, sister Ellen Knock, brother David Heiland and many nieces and nephews all of whom he loved very much.
Danny loved his dream job with Reynolds Trucking Co. and leaves many friends behind.
Preceding him in death were his sister Jeanne Stewart, parents Don and Roberta Heiland, grandparents Rosa and Roe Sharp, and Ray and Merle Heiland.
The family would like to praise the angels of Sullivan Healthcare for their excellent care and compassion for Danny.  They are wonderful!
In lieu of flowers, memorials may be made to the Findlay Methodist Church or listen to Danny's favorite music by Blake Shelton or Alan Jackson, or watch his favorite show "Gunsmoke."
Danny's family invites friends to share a story or light a candle in his honor at www.lockartgreenfuneralhome.com.