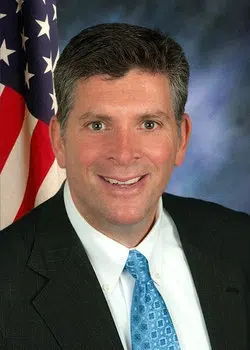 Darin LaHood announced today in West Central Illinois that he has been endorsed by the National Rifle Association and the Illinois State Rifle Association for the Republican special primary election being held on Tuesday, July 7, 2015.
"I am honored to receive the support and endorsement from the National Rifle Association and the Illinois State Rifle Association," said LaHood. "I am a vocal advocate for the Second Amendment and the right to bear arms. In Washington, I will continue to defend our constitutional rights and fight for all hunters, sportsmen, and firearm owners."
Illinois State Rifle Association spokesman Richard Pearson stated, "Mr. LaHood has a long history of supporting our Constitution and the liberties it guarantees. We fully expect that Mr. LaHood will stand tall in Congress as a protector of the right to keep and bear arms. Therefore, we are encouraging all hunters, sportsmen and firearm owners in the 18th District to get out and vote for Mr. LaHood on July 7, 2015."
In their endorsement, the National Rifle Association wrote, "based on your record on Second Amendment issues in the Illinois Senate and your perfect candidate questionnaire, you have earned an "A" rating from the NRA-PVF for this special Republican Primary election."
Illinois National Rifle Association spokesman Todd Vandermyde praised LaHood, pointing to his leadership on conceal and carry privileges for active duty members and spouses of active duty member of the Armed Forces of the United States stationed in Illinois.
"Supporters of the Second Amendment need to cast their vote on Tuesday, July 7th for Darin LaHood. We had the conceal and carry language worked out so that active duty members of the military and their spouses would be able to protect themselves, and it got tied up in Springfield politics," Vandermyde said. "Darin LaHood stood up and sponsored legislation, showing his commitment to protecting the Second Amendment rights of law-abiding citizens in this country. That's the kind of leadership we need in Washington."
The bill referenced by Vandermyde, SB2150, amends the Firearm Concealed Carry Act so that regardless of state law related to firearm ownership, possession, and carrying where a non-resident resides, the Department of State Police will now grant a non-resident license application and apply the resident license fee if the applicant is an active duty member or the spouse of an active duty member of the Armed Forces of the United States stationed in Illinois.
Under current law, a member of, or spouse of, the Armed Forces of the United States living in Illinois is not considered a resident for purposes of applying for a concealed carry license. They can only apply for a non-resident concealed carry license which are granted on a very limited basis, and only to legal residents of one of the four states deemed "substantially similar": Hawaii, Virginia, South Carolina, and New Mexico.