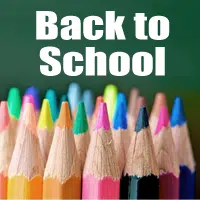 Registration for ALL Unit 40 students will be held in the Effingham High School Cafetorium. Students entering early childhood special education through 8th grade will register August 5th and 6th from noon – 6 p.m. Students with lasts names beginning with A-K will register the 5th and L-Z will register on the 6th.
As for High School students, registration will be held on August 10th; Noon – 2 p.m. for seniors, 2 p.m. – 4 p.m. for juniors, and 4 p.m. – 6 p.m. for sophomores.
Freshmen, new high school students, high school multiple-student families, and students that missed their registration date can come in on August 11th to register. A full list of dates, times, and extra registration information can be found by going to the Effingham Community Schools website.
The first day of student attendance will be August 19th.  If you have any questions or need more information about any school dates you can visit the school district website or call the unit office at (217) 540-1500.