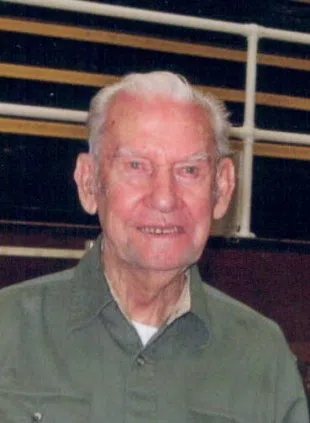 Clifford L. "Jack" Floyd, age 93, of Mattoon, IL formerly of Casey, IL passed away at 3:30 a.m. on Friday, July 17, 2015 at his home.
No services are planned at this time. A memorial service will be held at a later date. Schilling Funeral Home is assisting the family.
Clifford was born on April 11, 1922 in Greenup, IL the son of Ross and Jennie (Strader) Floyd of Greenup, IL. He married Betty Durnal on April 27, 1946.
Survivors include his loving wife of 69 years, Betty Floyd of Mattoon, IL; daughter, Sally Ault and husband Paul of Hidalgo, IL; son, Steve Floyd of Harrisburg, IL; granddaughter, Lisa Whiting and husband Dave of Tallahassee, FL; great grandchildren, Mason, Leah and Anna all of Tallahassee, FL; numerous nieces and nephews. Clifford was preceded in death by his parents; sisters, Ethel, Lola and Opal; brothers, Sam, Russell, Willis, Roscoe and Lester Dean; grandson, Bryan Ault.
Clifford served honorably in the United States Army. He was a Sergeant and veteran in the 5th Rangers E Company during World War II. Clifford was in the second wave that invaded Omaha Beach in the Normandy invasion on D-Day. After returning home from war, Clifford managed Partlow Farms. He later worked at the Casey Stone Quarry, Howe Asphalt and retired out of Operating Engineers Local 841 in Terre Haute, IN. After retirement, he wintered in Sebring, FL. Clifford enjoyed gardening, reading and spending time with his family.
In lieu of flowers, memorial donations in his honor are suggested to the V.F.W. Post 5762, 300 Central Avenue, Casey, IL 62420.