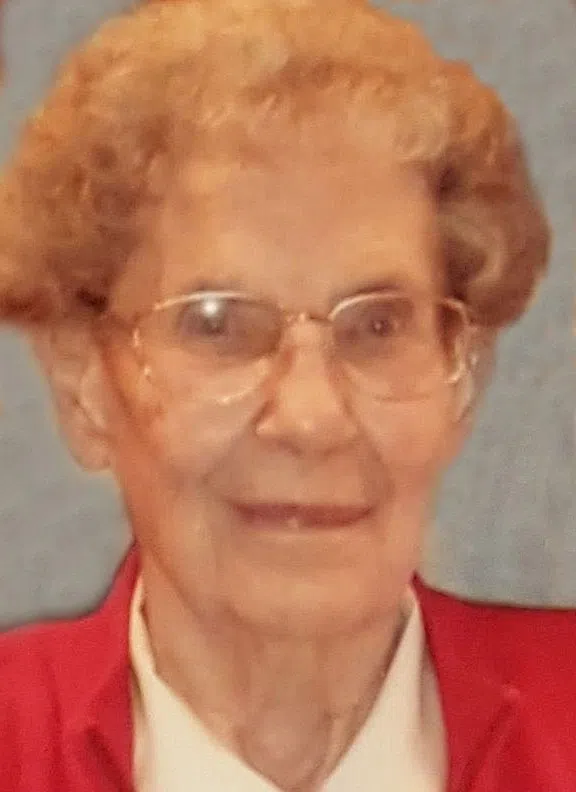 Julia Walk, age 95, of Sigel, Illinois, passed away in her home at 11:45 P.M., Thursday, December 31, 2015, with her family by her side. She was born in Teutopolis on August 8, 1920, to Henry and Elizabeth (Funneman) Wessel.  She married Maurice A. Walk on November 6, 1941, at St. Francis Church in Teutopolis. Mr.  Walk preceded her in death on July 27, 1988.
Mass of Christian Burial will be celebrated at 10:30 A.M.,  Monday, January 4, 2016, at St. Michael The Archangel Church  Church, Sigel, IL, with Rev. Fr. Sunder Ery, officiating. A Prayer Service will be held at 3:00 P.M., Sunday, January 3, 2016, followed by a CD of A  Rosary, in the St. Michael The Archangel Church. Visitation for family and friends will be from 3:30 P.M. to 7:00 P.M., at the Church. Burial will be in the St. Michael Cemetery of Sigel, IL.
Memorials may be made to St. Michael The Archangel Church, 200 South Church St., Sigel, IL, or to the St. Michael's School, Sigel, IL..
Julia graduated from Teutopolis High School as valedictorian of her class in 1938.  She then worked as a housekeeper for the Louis Fuelle family in Teutopolis and did volunteer work for Sister Ethelbert, principal of Teutopolis High School, until her marriage.
She lived on a farm near Sigel until she and Maurice retired and moved to Sigel in 1984. Julia was a member of St. Michael the Archangel Church, the St. Michael Council of Catholic Women and a teacher for the parish school of religion. She was a 50-year member of Effingham Court # 720 Catholic Daughters of America, a member of Cumberland County home extension, a 4-H leader who taught many girls to sew, and she delivered Meals on Wheels.  She also submitted the name Sharpshooters when the St. Michael Grade School was seeking a name for its sports teams who are known as the Sharpshooters.
The focus and pride of Julia's life were her family and her religion. She used her hobbies of making quilts, crocheting, and sewing to make gifts for her children and grandchildren. Her cooking skills provided them with delicious meals and desserts. After her retirement, she attended daily Mass and spent much time in prayer each day.
Julia is survived and will be sadly missed by her six children, eighteen grandchildren, twenty great-grandchildren, five step great-grandchildren, and two great-great-grandchildren. Surviving children are Marjorie (Ed) Wiessing of Teutopolis, Linda (John) Baker of Effingham, Joyce (Ed) Wagner of Champaign, William (Doris), Paul (Margaret), and Patrick (Brenda) all of Sigel.
Surviving grandchildren are Jim (Jane) Baker, Carol (Kirk) Hacker, Andrea (Charles) Keller all of Neoga, Ted (Carla) Wiessing of Lodi, WI, Tim (Tammy) Wiessing of Sigel, Anne (Patrick) Mansfield of Mahomet, Jeff (Regina)  Walk of Toulon, Brad of Sigel, Wayne (Kim) of Lexington,  Jennie (Doug) Welsh of Gays,  April Walk of Sigel, Michael Wagner and Patrick Wagner of Champaign, Clint (Alisha) Walk of Mattoon, Darin Walk, Evan Walk, Travis Walk and Trevor Walk all of Sigel.
She is survived by her sister, Norma (Hank) Hawickhorst of Teutopolis, brother, Ted (Mary) Wessel of Jacksonville, sister-in-law Connie (Bernard) Wessel of Teutopolis.
She was preceded in death by her husband, parents, sisters, Isabel Merz, Roseann Walk, Marie Wessel, Sr. Theodora Wessel, and brother, Bernard Wessel, and infant twin great-grandchildren.
The Swengel-O'Dell Funeral Home of Neoga is assisting the family with arrangements.
on line condolences may be expressed at swengel-odell.com