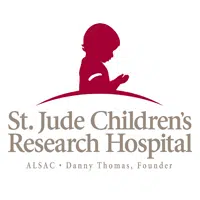 Over the weekend, I got to hear St. Jude patient Adam talk about his journey at St. Jude Children's Research Hospital. He was diagnosed with leukemia (ALL), but he was allergic to the normal chemo they use. The alternative drug? $30,000 per treatment, he needed 85 of them.  I'm no math whiz… but if you use common core or the "old way"… that's still over $2.5 Million Dollars!!!
Oh there's more!  Adam, while being treated for leukemia decided to do the half marathon in Memphis for St. Jude last month.  His doctor told him he couldn't run… so Adam walked the half marathon and had hip replacement surgery the next day!
Did you know?  Families never receive a bill for treatment, housing, food or transportation, because all a family should worry about is helping their child live.