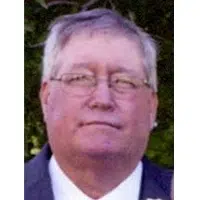 Michael L. Faulkner, 60, of Windsorpassed away at 1:10 p.m. Friday, January 15, 2016 at Sarah Bush Lincoln Health Care Center, Coles County on his 60th birthday.
Funeral services will be held at 11:00 a.m. Monday at the Lovins-Lockart Funeral Home, Windsor with Reverend Richard Eident officiating. Visitation will be from 4-8 p.m. Sunday, January 17, 2016 and one hour before service time on Monday. The family requests casual attire. Burial will be in theAshGroveCemetery,Windsor. Memorials may be made to the family or the Windsor Harvest Picnic Association.
Mike was born January 15, 1956 in Shelbyville the son of Carl F. Faulkner Jr and Carolyn Jane Bunyard.
He was employed by Warren Grain Co. since April of 1978. He was a member of the United Methodist Church, Windsor Fire Department and formerly served as Fire Chief, an active member of the Windsor Picnic Association and helped the Windsor FFA and other community activities where he was "Master of the Grill". Mike was a friend to all and was there to all that needed help.
He married Rebecca Pryor and to that marriage was born two sons, Kyle Faulkner (Kelly) and Grant Faulkner (Samantha) both of Sullivan. Also surviving are grandchildren Hayden and Haylee Faulkner; father, Carl Faulkner, Jr. of Sullivan; sister, Margaret Burrell (Jerry) of Neoga; brother, Mark Faulkner (Diana) of Flemingsburg, KY; several aunts, uncles, nieces and nephews.
He was preceded in death by his mother, Jane Rentfrow.