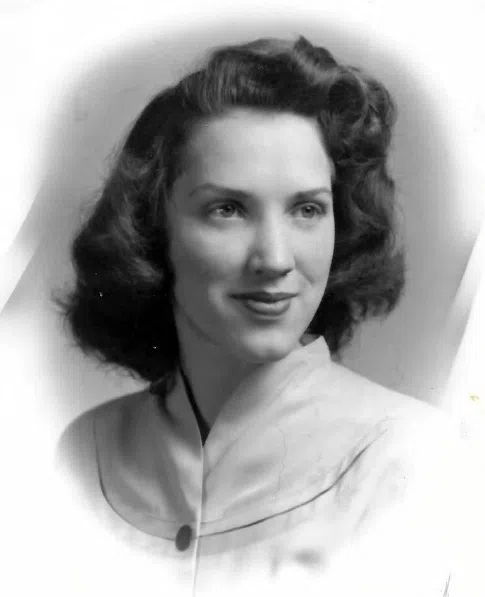 Donna Marie Stewart of Jewett IL, was born October 14, 1927 to W.E. "Red" Green and Gertrude Walden Green. She grew up in Greenup where she met and married the love of her life, William Arthur "Bill" Stewart in December of 1949.  Together, they worked hard, loved each other deeply and grew old together as their family grew to include neighbors, children's friends, grandchildren, and great grandchildren. Since Bill's passing, 2 years ago, Donna has imagined the time she would reunite with him in Eternity enjoying each other and talking about their cherished children.
On January 16, 2016, Donna peacefully went to Glory surrounded by the voices of those children: Debbie Stewart Tatum, Karen Stewart, Dave Stewart and Bill Stewart.
Donna is survived by all her children, their spouses, grandchildren, Sarah Tatum Reid, Josh Tatum, Gus and Alex Stewart, Jackson, Grace, Georgia and Bayes Stewart;   great grandchildren, Dash, Collins, and Yale Reid and nieces and nephews. Also surviving is her brother W.L., "Red", Green and Jody Stewart. They will miss her hearty laugh, good cooking and all that home canning she continued to do into her 80's.
Donna worked at several stores in Greenup while in school, in factories after high school, and later, nights at General Electric to send her children to college and provide them with opportunities she never had.
The family spent many happy years enjoying the simple life on their farm outside of Jewett.  Their days were filled with gardening, tending livestock or fishing on their boat, "The Mudhen".  She enjoyed Birds, Flowers, Church, Thrift Stores and assisting any needy thing that she discovered.
Services celebrating Donna's life will be held Saturday, January 23, 2016 at the Jewett Community Church at 11:00 am, with visitation beginning at 10:00 am. Interment will be at the Harmony Cemetery. Barkley Funeral Chapel in Greenup is assisting the family.
Contributions can be made to The Jewett Community Church, The American Diabetes Foundation or The Myasthenia Gravis Foundation. Online condolences may be expressed at www.barkleyfuneralchapels.com.
We celebrate her reuniting with Bill in Heaven.
"Those happy hours that we once knew
Tho' long ago, they still make me blue
They say that time heals a broken heart
But time has stood still since we've been apart"
-Ray Charles, I Can't Stop Loving You