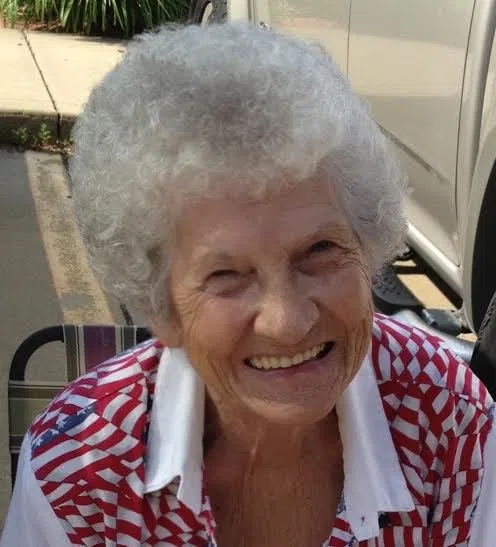 Mary E. Shoots, 84 of Lerna, Illinois, passed away on Saturday morning, January 30th 2016 at Heartland Christian Village in Neoga, Illinois.  Mary was born February 10, 1931, a daughter of Ben and Olive Ingram.  She married Roy Edmond Shoots on September 4, 1948.  He preceded her in death on April 30, 2012.
Survivors include their children, Vicky Collier (Mal) of Burlington, KY, Jackie Huddlestun (Gary) of Mattoon,IL, and Roy David Shoots (Jennifer) of Naples, Fl.  She had six grandchildren, Dr. Bret Collier (Reagan) of Baton Rouge, LA, Lexx Collier (Jana) of Seattle, WA, Nicole Young (Brandon) of Effingham, IL, Natalie Matowitz (Scott) of Gilbert, AZ, Dr. Rob D. Shoots (Kimberly) of Las Cruces, NM, Lance Shoots (special friend Kristen) of Toledo, IL., seven greatgrandchildren, three sisters, Barbara Norris, Donna Hester, Dorothy Green, and one brother Ray Ingram.
She was preceded in death by her parents, three brothers and a daughter-in-law.
Mary was an avid antique collector and loved going to auctions.  She enjoyed spending time with her family and traveling.  She lived her entire life on the family farm south of Lerna with her loving husband where you could always find her outside working in the yard.  She was a member of the Johnstown EUB Church.
A private service will be held at the Janesville Cemetery. The Barkley Funeral Chapel in Toledo, IL is assisting the family. Online condolences can be expressed at www.barkleyfuneralchapels.com
In lieu of flowers the family requests that donations be made in her memory to Safe Haven Hospice, 628 ½ Broadway, Lincoln, IL  62656 or Heartland Christian Village, 101 Trowbridge Road, Neoga, IL  62447.
She will be sadly missed by her family and friends.