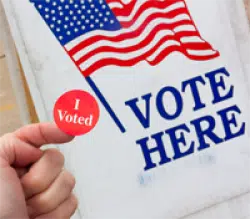 Coles County Clerk Sue Rennels would like to remind voters of the February 16 voter registration deadline for the upcoming March 15 General Primary.
A person must be a citizen of the United States, 17 years of age on or before the November 8, 2016 General Election, and reside in their precinct for at least 30 days prior to an election. Voters are required to provide proof of identity and address either when registering to vote, or upon voting for the first time.  Acceptable forms of ID include an Illinois driver's license, hunting or fishing license, library card, student identification, a copy of a lease or rent receipt showing address, or any piece of mail delivered at their residence.
Voter registration is available at the County Clerk's office, in the Coles County Courthouse at 651 Jackson Ave in Charleston.  The clerk's office will be open from 8:30-4:30 Monday thru Friday.  However, county offices are closed Friday, Feb.12 and Monday, Feb. 15 in observance of President Lincoln's Birthday and President's Day.
Rennels urges voters to check their voter registration status online at the State Board of Elections website:  www.elections.il.gov/VotingInformation/Registration  or contact the Coles County Clerk's office at 217-348-0523, or by email at elections@co.coles.il.us.