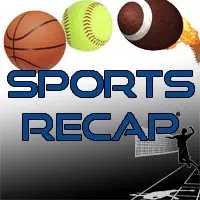 It was a productive weekend for the EIU basketball teams. The Panther women snapped a long losing streak with a 64-59 victory over Southeast Missouri. The Panther men completed the sweep at Lantz Arena with a 78-69 triumph over the Redhawks. It was the fifth consecutive win for the Panther men.
At the seventh grade boys basketball state tournament on Saturday, Sigel St. Michael's won its quarterfinal game before falling in the semifinal. They will play for third place in class 1A on Thursday night at 6 against Pontiac St. Mary's. In Class 2A, St. Anthony fell in the quarterfinal game 55-39 to finish its season at 17-and-6. In Class 3A, T-Town will play for a state title Thursday night against unbeaten Mossville. T-Town won a pair of games over the weekend to earn that chance.
The Denver Broncos are Super Bowl champions for the third time in franchise history.  The Broncos forced four turnovers en route to a 24-10 win over the Carolina Panthers in Super Bowl 50 at Levi's Stadium in Santa Clara, California.
Denver Broncos linebacker Von Miller is heading to Disney World.  Selected one choice after Cam Newton in the 2011 NFL Draft, Miller recorded two-and-a-half sacks on the Panthers quarterback and forced two fumbles to take home Most Valuable Player honors in Super Bowl 50.
Seventh-ranked Iowa got 23 points from Peter Jok in a 77-65 win over Illinois Sunday in Champaign.  Jalen Coleman-Lands led the Fighting Illini with 17 points.  Illinois fell to 11-and-13 overall and 3-and-8 in the Big Ten.  The Illini are off until Sunday when they play at Northwestern.
NBA scores: Denver beat New York 101-96, Orland topped Atlanta 96-94, Boston beat Sacramento 128-119, the Clippers over Miami 100-93.
Chicago Bulls guard Jimmy Butler will be out for some time after suffering a knee strain in Friday's loss to the Nuggets.  Butler underwent an MRI on Saturday, revealing the injury in his left knee.  The 26-year-old All-Star will be further evaluated by team doctors in the coming days.  As of now, there is no timetable for his return.  Butler is averaging a team-high 22.4 points to go with 5.3 rebounds and 4.3 assists per game this season.
Peyton Manning is lifting his second Lombardi Trophy.  Manning was 13-of-23 for 141 yards, no touchdowns and an interception.  He's the 12th quarterback to win multiple Super Bowls as a starter and the first to do it with two different teams.
It was a rough first Super Bowl appearance for Panthers quarterback Cam Newton.  Newton had three of Carolina's four turnovers in the loss to the Broncos.  Newton completed 18-of-41 passes for 265 yards and ran for 45 yards on six carries.
Seahawks running back Marshawn Lynch took the attention away from the Super Bowl for a quick moment.  Lynch tweeted out a pair of cleats hanging off a wire with a peace sign emoji.  There have been rumors he was going to retire and his teammate Richard Sherman tweeted what seemed like a conformation.