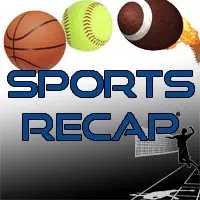 The Charleston boys basketball team dropped its game to Newton last night, 66-52. With the loss, the Trojans fell to 8-and-13 on the season. They will face Taylorville this Friday.
Other boys basketball winners: Sullivan beat Shelbyville, Okaw Valley edged ALAH, Cumberland, St. Anthony, Altamont, Effingham, and Okaw Christian all posted victories.
Girls basketball Regional action: Lawrenceville beat Robinson 54-39, Newton over Fairfield 47-37, T-Town beat Casey-Westfield 64-23, Vandalia topped Pana 54-29, Marshall beat Meridian 81-45, Tuscola over Cerro Gordo/Bement 58-30, St. Anthony beat Dieterich 42-18, Red Hill over Oblong 54-38, Windsor/Stew-Stras fell to Central A&M 77-33, Neoga came up short against Nokomis 46-44, Okaw Valley beat Arcola 44-32.
Top 25 men's college basketball: Villanova, Maryland, North Carolina, Miami, Virginia, and Dayton all posted victories. In battles of ranked teams, Kansas beat West Virginia 75-65, and Purdue topped Michigan State 82-81 in overtime. Fifth-ranked Xavier lost to Creighton 70-56.
Martin Jones stopped all 33 shots he faced as the Sharks blanked the Blackhawks, 2-0.  Corey Crawford made 25 saves for Chicago.  The Blackhawks had won three in-a-row since returning from the All-Star break.  The 'Hawks host the Stars tomorrow.
Mark Scheifele scored the lone goal in the shootout to lift the Jets over the Blues 2-1 at the Scottrade Center.  Colton Parayko netted a power play goal early in the second for St. Louis to tie the game at one.  Brian Elliott made 32 saves in the loss, which dropped the Blues to 30-17-and-9.  The Blues play the Panthers in Florida on Friday.
Panthers quarterback Cam Newton isn't apologizing, but he is explaining his terse post-Super Bowl press conference.  After giving mostly one-word answers before walking out altogether, Newton says that's just the way he was feeling at the time.  Newton came under fire for being a poor sport and admits to being a "sore loser".
The Super Bowl celebration is on in Denver.  The Broncos held a victory parade and rally yesterday in honor of beating the Panthers in Super Bowl 50.  Hundreds of thousands of fans lined the streets as players and coaches drove by to celebrate the team's third title in franchise history.
NBA winners: San Antonio, Washington, Milwaukee, Utah, and Golden State.
The Clippers are punishing forward Blake Griffin for his altercation with a team assistant equipment manager.  Griffin has been suspended four games after breaking his hand in the incident.  Griffin will also lose five games worth of salary.
The Bulls will be without All-Star swingman Jimmy Butler for nearly a month with a left knee sprain.  He will miss three-to-four weeks, including Sunday's All-Star Game in Toronto.  The league announced that teammate Pau Gasol will take Butler's place at All-Star Weekend.