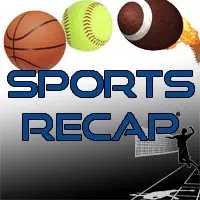 8th grade boys basketball Sectionals last night: Sigel St. Michael's advanced to state with a 40-31 win over Mulberry Grove. St. Anthony fell to Nokomis 42-39. T-Town advanced with a 42-30 win over Marshall. Charleston was edged by Champaign Jefferson 32-31 as the Little Trojans lost for the first and only time this season.
High school girls basketball Regional results: Altamont beat North Clay 65-35; St. Elmo/Brownstown topped Ramsey 60-40. Okaw Valley took out Arthur-Lovington/Atwood-Hammond 55-48, and Chrisman eliminated Tri-County 50-45.
The Lake Land women's basketball team rolled to a 77-27 victory over Lincoln College at the Fieldhouse last night. The Lady Lakers are now 12-and-13 on the season.
At Lantz Arena, Eastern Illinois shot 52 percent in the second half as the Panther women's team picked up a 64-56 win over Austin Peay.  The Panthers defense also stepped up in the second half holding APSU to 25 percent shooting. EIU won its second straight to improve to 3-21 overall, 2-10 in the OVC.   APSU fell to 7-18 overall, 5-7 in the OVC.
The EIU men's basketball team had its five-game winning streak snapped with a 79-70 loss to Austin Peay. The Governors made 23-of-30 foul shots to hold off the Panthers. EIU fell to 11-and-14 overall, 7-and-5 in the Ohio Valley Conference.
It was a tough night for top-25 teams in college hoops.  Number-13 Texas A&M was edged by Alabama, 63-62.  Texas Tech knocked off 15th-ranked Iowa State in overtime, 85-82, while Marquette downed 17th-ranked Providence in double-overtime, 96-91.Baylor was a winner over Kansas State 82-72.
Dennis Schroder led eight Hawks in double figures with 18 points as Atlanta bulldozed Chicago, 113-90.  Pau Gasol went for 20 points and 10 boards for the Bulls.  Derrick Rose had 14 points on 6-of-18 shooting in his return from a one-game absence. The All-Star break has mercifully arrived for the banged up Bulls.  Chicago enters the break 27-and-25 on the year, but has lost 13 of its last 18 games.  The Bulls will be back in action a week from tonight against the Cavs.
The Hornets took a 17-point halftime lead and held on to drop the Pacers, 117-95, at Bankers Life Fieldhouse.  Paul George led Indiana with 22 points, but poor defense doomed them.  George Hill added 12 points in the loss.  The Pacers head into the All-Star break at 28-and-25 and are off until next Friday night.
NBA winners: Golden State, San Antonio, Sacramento, Memphis, Denver, Boston, Minnesota, Cleveland, Portland, and New Orleans.
Bills running back LeSean McCoy could soon be arrested for his alleged involvement in the assault of two off-duty police officers at a Philadelphia nightclub.  Multiple reports say the case is being turned over to the district attorney's office, with the recommendation of criminal charges against McCoy.