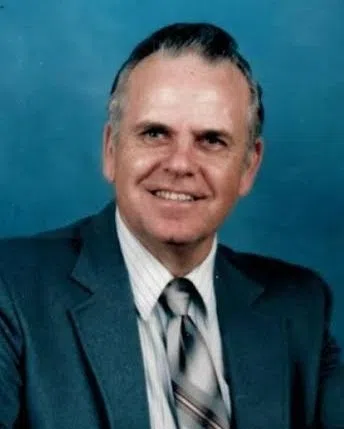 Raymond Leon Beard, age 85 of Rolla, Missouri, and formerly of Dieterich, Illinois, passed away at 4:20 PM – Wednesday, February 10, 2016, at Phelps County Hospital in Rolla, Missouri.
Graveside service will be held at 2:00 PM – Monday, February 15, 2016 at Dieterich Village Cemetery in Dieterich, Illinois with full military rites conducted by the Dieterich American Legion Post#628. Arrangements are under the care of the Meyer Funeral Home in Dieterich, Illinois.   The obituary can be viewed and condolences left at www.meyerfh.com.
Raymond was born on February 2, 1931, in Effingham County, Illinois, the son of Samuel and Velma (Lybarger) Beard, and was the eldest of four children.
Raymond was in the Air Force and Army for approximately 18 years.  He enjoyed country music and working outdoors.  Raymond was employed and retired from General Electric in Burlington, Iowa.  He also sold insurance for several years.  After his retirement from General Electric, Raymond enjoyed working at Eagle/Wolf Creek State Park.
Raymond is survived by: Daughters – Kathleen (Dennis) Schulte of Burlington, Iowa and Christine (Mark) Lance of Poplar Bluff, Missouri, Sons – Matthew (Betsy) Haynie of Effingham, Illinois and Aaron (Hillary) Beard of Sigel, Illinois, Brother – Ed (Wanda) Beard of Sigel, Illinois,  Sister – Clara Beard of Dieterich, Illinois, 7 grandchildren, 2 great grandchildren (and one on the way.)
Raymond was preceded in death by his parents, and a brother Samuel Garland Beard.
"Naked came I out of my mother's womb, and naked shall I return thither.  The Lord gave and the Lord hath taken away; blessed be the name of the Lord"
Job 1:21