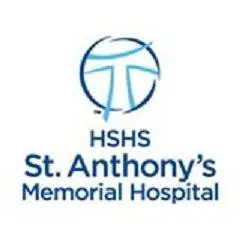 HSHS St. Anthony's Memorial Hospital is a critical contributor to the local and state economies, providing steady job growth while improving the health of the residents and communities we serve. According to a new report, HSHS St. Anthony's Memorial Hospital employs 601 full-time equivalent (FTE) health care professionals, resulting in 866 additional jobs for the community, and generates a total annual impact of $235,578,075 on the local and state economy.
The report, "HSHS St. Anthony's Memorial Hospital: Our Impact on the Economy," was developed in conjunction with the Illinois Health and Hospital Association (IHA) and its statewide economic impact report, "Illinois Hospitals and Health Systems $88.8 Billion State Economic Impact."
"HSHS St. Anthony's Memorial Hospital plays a vital role in supporting and strengthening the economy of our community, region and the state, and contributing to the vitality of economic growth," said Theresa Rutherford, President and CEO of St. Anthony's. "We are honored to employ highly skilled, compassionate health care professionals, and spurring additional economic activity through our spending on goods, services and capital improvements, such as our new Physical Rehabilitation and Wellness location in the Workman Sports and Wellness Complex," she shared. "We are proud that HSHS St. Anthony's Memorial Hospital is a key cornerstone of the local and state economies."
Rutherford continued, "While we look forward to a continued economic partnership with area communities, the state's economic crisis makes that increasingly difficult. To continue to retain and create jobs, attract businesses to our community, and provide access to high-quality health care services, it is critical that Illinois' hospitals have the funding support they need to remain fiscally healthy," she said. "Additionally, as the Illinois budget situation continues, physicians are choosing to overlook recruitment opportunities in Effingham and Illinois in general. They view unstable financial performance at the state level as being a risk for the future of health care, which makes it increasingly difficult for us to attract new physicians to the area. This secondary impact has a negative impact on the future health and wellness of our communities," Rutherford said.
Among the report's key findings:
HSHS St. Anthony's Memorial Hospital employs 601 FTE health care professionals, expending $44,776,890 a year on payroll, creating an additional 866 jobs for the local economy, and generating approximately $107,858,570 in economic activity in the community.
HSHS St. Anthony's Memorial Hospital spends $46,394,620 on goods and services, resulting in $111,755,350 in economic activity in the local and state economies.
HSHS St. Anthony's Memorial Hospital invests $6,627,430 in capital improvements to enhance and update facilities and major medical equipment, generating $15,964,150 in economic activity for the local and state economies.
HSHS St. Anthony's Memorial Hospital has a total annual economic impact of $235,578,075.
HSHS St. Anthony's continually takes steps to boost the local economy and advance health care services offered to the residents of this region.  Recently, St. Anthony's launched their outpatient Physical Therapy, Occupational Therapy, and Speech Therapy location at the Richard E. Workman Sports and Wellness Complex.  The hospital partnered with the Effingham Park District by leasing 8,000 square feet of space in their new Sports Complex, to offer these therapy services in a larger, more convenient location for area residents. The collaboration with the Park District at the Sports Complex also provides an opportunity for St. Anthony's to expand the therapy services offered to the community, by including aquatic therapy once the pool area is opened at the complex.
Ensuring stability in the hospital's workforce is a priority of St. Anthony's so that they can provide advanced health care to the community many years from now, while continuing to stimulate the local economy. The hospital's physicians and Board of Directors are committed to delivering exceptional care to the region and recognized the need to introduce new physicians and services to the area.  As such, St. Anthony's established a relationship with Liberty University College of Osteopathic Medicine (LUCOM), based in Lynchburg, Virginia. Partnering with Liberty University provides St. Anthony's an opportunity to help develop the skills of physicians in training while they become familiar with the local region.  St. Anthony's plans to accept the first group of third- and fourth-year medical students in the fall of 2016.
In addition, the IHA report noted key economic impacts of Illinois hospitals statewide:
Illinois have a total impact of $88.8 billion annually on the state's economy.
Health care employment has grown by 26 percent (127,600 jobs) between 2000 and 2015. In contrast, overall Illinois employment declined 1.5% (89,900 jobs).
For every hospital job in Illinois, nearly 1.5 jobs are created in other sectors.
For every dollar hospitals and health systems spend, an additional $1.41 is generated in state and local economies.
Besides the positive impact St. Anthony's has on the local economies, the hospital provides enormous benefits to the community which increases access to care for the underserved, enhances health and wellness in the community, and advances medical education and knowledge.  During the last fiscal year (July 1, 2014-June 30, 2015), St. Anthony's provided over $10.4 million in Community Support through benefits to those who are uninsured/underinsured and for community health services. Included in this amount was $2.7 million provided for Charity Care at cost and $6.7 million for unreimbursed care provided under the Medicaid program and other public programs.  The remaining amount of Community Benefit funds were invested in areas such as research, education for health professionals, and other community health services.
"Every day, our hospitals and health systems provide care to improve the health Illinois residents and community," says IHA President & CEO A.J. Wilhelmi. "They also play a critical role in sustaining a healthy state economy and the local economies in the communities they serve."
"To continue this important work, our hospitals and health systems need the support of elected officials at the state and federal level. Illinois residents deserve to have quality health care and to live in economically thriving communities. For hospitals to continue to achieve these goals, they cannot sustain further cuts at the state and federal levels," Wilhelmi added.
IHA's statewide report is available on IHA's Web site, www.ihatoday.org. For more information about HSHS St. Anthony's Memorial Hospital, download its Annual Report/Community Benefit Report by visiting the hospital's Web site at www.stanthonyshospital.org and clicking on "Publications and Forms" at the bottom of the home page.  HSHS St. Anthony's Memorial Hospital is part of the Southern Illinois Division of Hospital Sisters Health System, which also includes HSHS St. Elizabeth's Hospital in Belleville, HSHS St. Joseph's Hospital in Breese, and HSHS St. Joseph's Hospital in Highland.