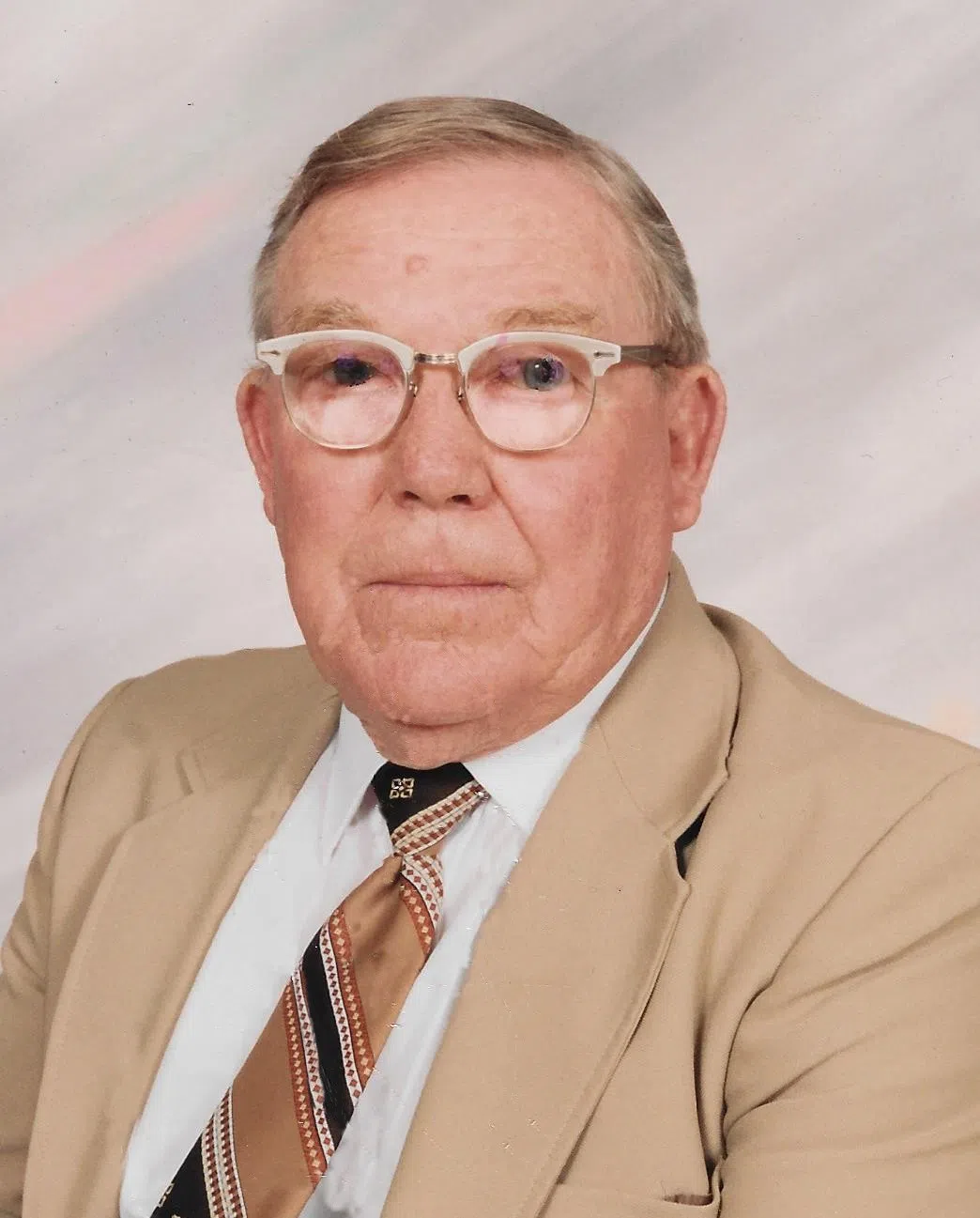 Dorris Douglas 'Doug' Leffler, age 103, of Newton, Illinois, retired state employee, passed away at 5:05 AM – Tuesday, September 12, 2017, at Newton Care Center in Newton, Illinois.
Funeral services will be held at 10:30 AM – Saturday, September 16, 2017, at the Meyer Funeral Home in Newton, Illinois, with Mike Knepper officiating. Visitation will be held 1 hour prior to the service, at the funeral home.  Burial will be in Westlawn Memorial Park Cemetery in Newton, Illinois.  In loving memory of Doug, memorials may be made to the Newton Athletic Booster Club.  The obituary can be viewed and condolences left at www.meyerfh.com.
Doug was born November 1, 1913, in Newton, Illinois, the son of Roy G. and Clara (Tarr) Leffler.  As a young boy, he moved with his family to West Liberty and spent his youth there.  He attended the grade school in West Liberty and worked at Warren's General Store there doing odd jobs when he was old enough.  He graduated from eighth grade at West Liberty and then attended the Dundas three-year high school, graduating from it in 1931 and then completed his schooling at Newton Community High School with the Class of 1932.  He was the last surviving member of both those classes.  After high school he worked in the peach orchards near West Liberty and continued at Warren's Store.  As the depression was in its depths, full-time work in the area was hard to find, so he and a friend moved to Ypsilanti, Michigan, where he was able to find work.  There he met Dorothy Clara Foege and they were married on May 29, 1939.
He lived in Ypsilanti during the years of World War II and was employed there at the Ford Motor Company plant that made Jeeps for the military.  After the war, in 1947, he decided to move back to Illinois and lived first near Willow Hill and then near Noble before purchasing a home in West Liberty in 1949.  In 1959 he moved to Newton and remained there until his death.
Doug retired from the State of Illinois Department of Revenue in 1977.  He was very knowledgeable about the West Liberty area and the residents there during his time there and loved to share that information with others.  He could remember when the 'hard road' (known as Rte 130) was built and when electricity came to the community.  He told about spending Saturday evenings in Newton and going to the movies there and visiting with others.  In high school he played basketball and played in small towns with basketball courts that were smaller than standard or were outside the school.  He had an endless amount of stories about the area in the 1920's and 1930's.  He enjoyed sports and was a fan of the Chicago Cubs, the Illini, and the Newton Eagles.
Doug was preceded in death by his wife, Dorothy, who died on June 12, 1985, and by his parents, a sister, Maxine Leffler Robins and a brother, Harold G. Leffler.  He is survived by his daughter, Lora Short of Newton, Illinois, and two sons, Jim (Jan) Leffler of Sioux Falls, South Dakota and Jay (Patsy) Leffler of Newton, Illinois.  Also surviving are six grandchildren: Kathy (Bob Barker) of Carson City, Nevada, Norman (Cinda) Short of Newton, Illinois; Patti Short of Fisher, Illinois; Kelley Leffler of Newton, Illinois; Kate (Mike) Passalacqua of Effingham, Illinois, and Colleen Swick of Effingham, Illinois; nine great-grandchildren and six great-great grandchildren.