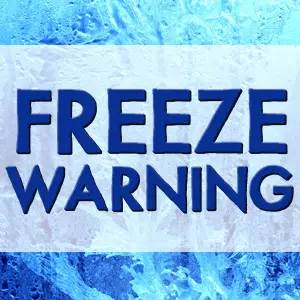 The National Weather Service has issued a Freeze Warning for Eastern IL from 2 to 9 am CDT Tuesday for the following counties in Illinois:
Champaign-Vermilion-Douglas-Coles-Edgar-Cumberland-Clark-
Effingham-Jasper-Crawford-Clay-Richland-Lawrence-
…FREEZE WARNING REMAINS IN EFFECT FROM 2 AM TO 9 AM CDT on
TUESDAY…
* TEMPERATURE…Temperatures dropping below freezing overnight,
reaching around 30 degrees late tonight and early Tuesday
morning.
* IMPACTS…Vegetation that sensitive to temperature may be
damaged or killed.
PRECAUTIONARY/PREPAREDNESS ACTIONS…
A Freeze Warning means sub-freezing temperatures are imminent or
highly likely. These conditions will kill most outdoor plants and
other sensitive vegetation.