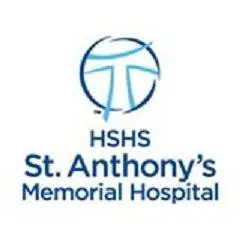 (EFFINGHAM, IL) – Many advances have been made in the diagnosis and treatment of cancer.  Yet sadly, many cancer survivors, after surviving their disease, are unable to return to their pre-cancer lifestyle due to lingering effects of the disease and treatment.
But HSHS St. Anthony's Memorial Hospital can assist those undergoing cancer treatments through their Oncology Wellness Program to help improve their quality of care and quality of life from initial cancer diagnosis, through all stages of treatment, and after treatment is completed.  This therapy program can help prepare your body before cancer treatment, and help you to return to your previous activity level afterwards, reducing the effects of treatment.
"This is about enhancing the quality of life for people living with cancer," said Tammy Probst, St. Anthony's Director of Rehabilitation Services and Wellness. "Studies have shown that exercise during and after cancer treatment is safe and results in improvements in physical function, activity level, and fatigue. An Oncology Wellness program is much like other forms of therapy after a serious illness or injury but with any oncology special needs and precautions taken into account," she explained.  "Our goal is to have a comprehensive team approach using evidence-based interventions that are unique for each patient to allow a safe progression of their program."
HSHS St. Anthony's Oncology Wellness can assist in relieving a variety of symptoms and conditions related to cancer treatment:
Pain
Weakness
Fatigue (tiredness)
Neck and Shoulder Problems
Balance and Walking Difficulties
Memory and Concentration Issues
Swallowing and Speech Problems
Lymphedema (swelling)
Difficulties with Activities of Daily Living (self-care, functions at home)
Scar Tenderness/Tightness
Post-Mastectomy Pain Syndrome
Post-Surgical/Radiation/Chemo Range of Motion and Mobility Deficits
Bowel/Bladder Incontinence
Pelvic Pain
Chemo-Induced Neuropathy
Durable Medical Equipment Assessment and Recommendations
There are a variety of treatment options available through St. Anthony's Oncology Wellness Program:
Outpatient Prehabilitation – Provide a functional assessment prior to beginning treatment, and offer education on posture, skin care, lymphedema precautions (if appropriate) and medical guidelines for safe exercise. A home exercise program is also available to maximize the mobility and strength prior to cancer treatment to assist in reducing cancer-related fatigue.
Outpatient Rehabilitation – Provide physical, occupational or speech therapy to treat any deficits resulting from cancer treatments or surgeries, maximizing your quality of life and level of function. We can provide home exercise program instructions within medical guidelines designed to combat cancer-related fatigue, pain and weakness, and allow you to maintain independence with your daily activities.
Survivor Support and Wellness – Offer proven recommendations to reduce and limit any long-term effects that may arise and affect your physical function, and empower you to be as active as possible.
In order to have Oncology Wellness services, a physician's referral is required, typically from your family practitioner, oncologist, or surgeon.  St. Anthony's accepts most insurances and your insurance benefits can be checked before your evaluation. For questions or more information about how you may benefit from Oncology Wellness services, contact HSHS St. Anthony's Memorial Hospital Physical Rehabilitation and Wellness located at the Richard E. Workman
Sports and Wellness Complex at 1301 North Maple Street in Effingham, at (217) 347-1243. More information can also be found on HSHS St. Anthony's web site at stanthonyshospital.org.
HSHS St. Anthony's Memorial Hospital is part of the Southern Illinois Division of Hospital Sisters Health System, which also includes HSHS St. Elizabeth's Hospital in O'Fallon, HSHS St. Joseph's Hospital in Breese, HSHS Holy Family Hospital in Greenville, and HSHS St. Joseph's Hospital in Highland.