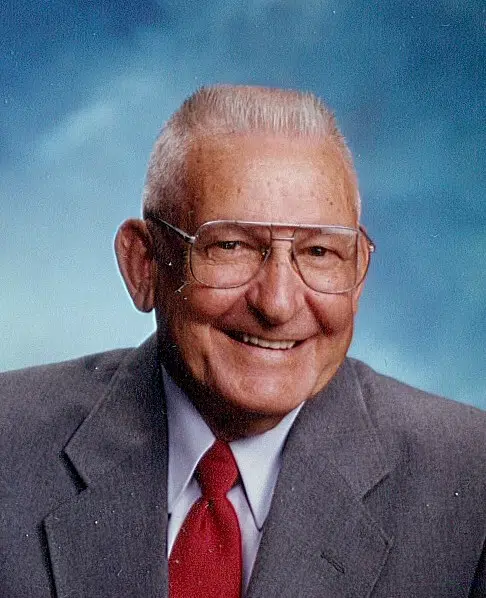 James Russell Riley, 91, of Findlay, passed away at home on Sunday, January 14, 2018.
James was born May 6, 1926, in Decatur, the son of Charles Lucas and Lillian Viola (Walton) Riley.  He married Opal Irene Ward on July 11, 1948 in Sullivan.  She passed away June 17, 2003.  James retired from Caterpillar in 1985 after 30 years of service.  He formerly worked at Brown Shoe Company in Sullivan, John Price Fertilizer Company, Todds Point Township Road Commissioner and farmed for many years in the Findlay area.  He graduated from Findlay High School in the Class of 1944 and was a veteran of the United States Army where he served in Germany during WWII as a MP.
James is survived by son, James Dwight Riley and wife Paula of Findlay; daughter, Debbie Reynolds and husband Mike of Findlay; daughter-in-law, Diane Riley of Maroa; brother, Ed Riley and wife Vicki of Sullivan; granddaughters:  Jennifer Masters, Julie Kuehnau and husband Rob, Kim Bathe and husband Shad, Dena Boehm and husband Nathan, Darla Winings and husband Josh, Jennifer Whitney and husband Lance; grandsons:  Anthony Riley and Michael Riley and several great-grandchildren.
Preceding him in death were his parents, Charles and Viola; wife, Irene; son, David Riley; daughter, Diana Darnell and husband Jack Darnell; sisters: Donna Rickey and Barbara Gregory and brother, Bud Riley.
Special thanks to the staff at HSHS Good Shepherd Home Care and Caring Hearts for the loving care provided to our father.
Funeral services will be held at 2:00 p.m. on Wednesday, January 17, 2018 at Lockart-Green Funeral Home in Findlay with Pastor Mike Reynolds officiating.  Visitation will be from 1:00 p.m. until the time of service at the funeral home.  Burial will take place in Findlay Cemetery with military rites performed by the Clarence Bixler American Legion Post 409.  Memorials may be made to Clarence Bixler American Legion Post 409 in Findlay or Faith Covenant Church in Findlay.
Family and friends are invited to share a story or light a candle in James's honor at www.lockartgreenfuneralhome.com.