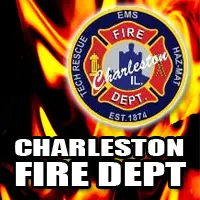 The Charleston Fire Department was dispatched to 506 Monroe for a report of a structure fire at 1:46 this morning. Upon arrival, crews encountered heavy smoke conditions on the second floor. Crews rescued two occupants off a section of the roof with a ladder and had to force a door to rescue three others. Three other occupants were able to escape on their own. Heavy smoke and fire conditions forced the fire crews to evacuate the building and start a defensive attack.
A third alarm was activated which brought in additional crews from Mattoon Fire Department, Lincoln Fire Protection District, Mitchell-Jerdan Ambulance and Ashmore Fire Department. Two ladder trucks were used to fight the fire. The fire caused the second floor to collapse and caused extensive damage to the building. Fire crews contained the fire to the building of origin. No firefighter or civilian injuries were reported.
As of 9:00 a.m. fire crews were still on scene putting out hot spots. A structural engineer had to be brought in to determine the structural stability of the building. Eight residents have been displaced and are being assisted by the American Red Cross.
The fire is currently under investigation by the Charleston Fire Department, Charleston Police Department, and the Office of the State Fire Marshall's Office.