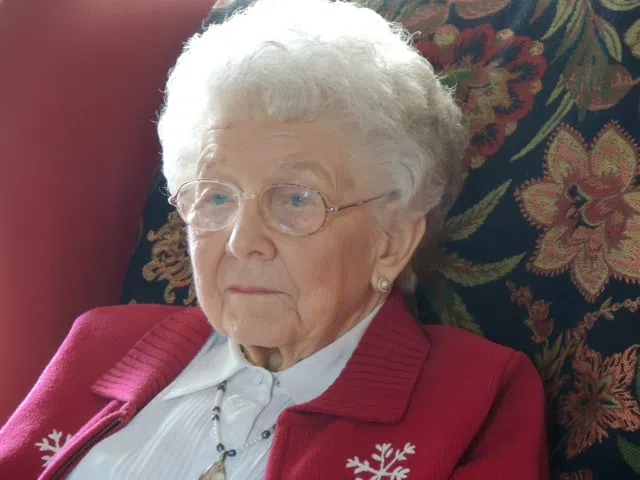 Dorothy J. Gardner, 99, of Newton, IL, died March 5, 2018, in Heartland Christian Village, Neoga, IL.
Visitation will be from 5:00 – 7:00 p.m. Wednesday, March 7, 2018 in Crain Funeral Home, Newton, IL.  Funeral services will be 2:00 p.m. Friday, March 9, 2018, with a visitation one hour prior to service time in First Congregational United Church of Christ, Prophetstown, IL. Burial will be in Riverside Cemetery, Prophetstown, IL.  Memorials may be made to First Congregational United Church of Christ or Heartland Christian Village Neoga Activity Fund.
Dorothy was born August 31, 1918 in Tulsa, OK, the daughter of Wayne and Genevieve (Lancaster) Johnson.  She married Cecil Gardner November 2, 1940 in Prophetstown, IL.  He preceded her in death in 1980.
Dorothy was a lifelong active member of First Congregational United Church of Christ in Prophetstown.  She taught Sunday school for 10 years and held several offices on the
Diaconate Committee and the Women's Fellowship. Dorothy was also associated with First Presbyterian Church of Newton. She graduated in 1936 from Prophetstown High School, was a Girl Scout Leader for several years and held offices in the Parent-Teacher Organization.  Dorothy was a member of Prophet Hills Country Club for many years and belonged to several travel clubs. She retired in 1988 after working for 29 years as the secretary of the Veterinary Clinic of Prophetstown.
Surviving are her children: son, William (Judy) Gardner of Soap Lake, WA; daughters, Kathy (Larry) Collins of Newton, IL and Ann (Spencer) Gore of Bloomington, IL; grandchildren: Beth Gardner of Lynnwood, WA, Bob (Robyn) Gardner of Battle Ground, WA, Becky (Dan) Sparks of Pasco, WA, Curt (Gail Ann) Collins of Newton, IL, Craig (Kathy) Collins of Assumption, IL and Amy (Josh) Yager of Newton, IL ; eighteen great-grandchildren and three great-great grandchildren.
Preceding her in death are her husband, parents and sister, Willa Morath.
Seitz Funeral Home, Moweaqua has been entrusted with the care and service arrangements.  Condolences for the family may be left at www.seitzfh.com .