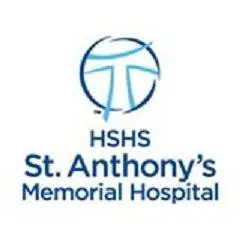 (EFFINGHAM, IL) – HSHS St. Anthony's Memorial Hospital is pleased to announce Hospital Sisters Health System Board of Directors recently approved the appointment of Carrie Crippen, Dr. Ken Johnson, and Father Michel Rosa, to the hospital's Board of Directors for a three-year term of November 1, 2017 to October 31, 2020.
Carrie Crippen is a lifelong resident of Effingham. After graduating from Effingham High School in 1992, she served in the Illinois Army National Guard for six years.  She has worked at Catholic Charities for about nine years, currently working as the store manager of Second Hand Rose Resale Shop. She also works with other local charities to benefit the Effingham community.  She has been a member of Effingham Noon Rotary for over six years where she has served as Club President and currently serves as Assistant District Governor.
Ken Johnson, MD, MPH, FACEP, currently serves as Vice President and Chief Physician Executive for Hospital Sisters Health System (HSHS).  He also previously served as Chief Physician Executive for HSHS Eastern Wisconsin Division. He began his career with HSHS as the Medical Director for Emergency Services at HSHS St. Vincent Hospital in Green Bay. Prior to joining HSHS, he served as an Emergency Room physician at Columbia Hospital in Milwaukee, WI; and at St. Francis Hospital in Evanston, IL.  Dr. Johnson received his Bachelor of Science from Louisiana State University A&M; his Doctor of Medicine from Louisiana State University Medical School; and his Masters of Public Health from the University of Illinois – Chicago, where he also completed his residency.
Father Michal Rosa currently serves as the Pastor of Sacred Heart Parish as well as serving as the school Chaplain at St. Anthony High School.
Carrie Crippen, Dr. Johnson and Fr. Rosa joins the other members of St. Anthony's Board of Directors: Dot Behrns, APN, FNP-C, Chairperson; Sister Ritamary Brown, OSF, Secretary; Kelly Haller, MD; John Kingery, Vice-Chairperson; Didi Omiyi, MD; Bob Schultz; Eric Zeller; and Theresa Rutherford, St. Anthony's President and CEO.
Sister Marybeth Culnan, OSF, recently concluded her service on the Board of Directors.  HSHS St. Anthony's Memorial Hospital extends a special thank you Sister Marybeth for her dedication and commitment to the Board of Directors.
For more information about HSHS St. Anthony's Memorial Hospital, visit St. Anthony's Web site at stanthonyshospital.org.  HSHS St. Anthony's Memorial Hospital is part of the Southern Illinois Division of Hospital Sisters Health System, which also includes HSHS St. Elizabeth's Hospital in O'Fallon, HSHS St. Joseph's Hospital in Breese, HSHS Holy Family Hospital in Greenville, and HSHS St. Joseph's Hospital in Highland.