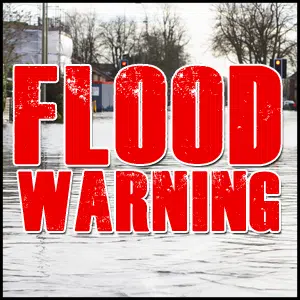 The National Weather Service in Lincoln has issued a  Flood Warning for Urban Areas and Small Streams in…
Coles County in east central Illinois…
Edgar County in east central Illinois…
Southeastern Douglas County in east central Illinois…
* Until 330 AM CDT Wednesday
* At 323 PM CDT, emergency management reported flooding in Charleston and Mattoon. A number of city roads are closed due to high water in both communities. Shelters have been opened to accommodate people who have experienced flooding at their homes from this morning`s heavy rainfall. While water levels are
currently receding, a line of showers and thunderstorms is expected to track through the area between 4pm and 6pm, potentially aggravating the ongoing flooding situation.
* Some locations that will experience flooding include…Charleston, Mattoon, Paris, Chrisman, Oakland, Kansas, Ashmore, Humboldt, Brocton, Hindsboro, Vermilion, Redmon, Cooks Mill, Rardin, Coles, Edgar, Paradise, Isabel, Metcalf and Bushton.
This includes Interstate 57 between mile markers 182 and 201.
PRECAUTIONARY/PREPAREDNESS ACTIONS… Turn around, don`t drown when encountering flooded roads. Most flood deaths occur in vehicles.
Excessive runoff from heavy rainfall will cause flooding of small creeks and streams, urban areas, highways, streets and underpasses as well as other drainage areas and low lying spots.