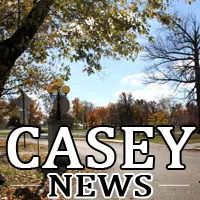 Erin Pringle grew up in Casey, Illinois and writes stories that are set in rural landscapes. She will read from her newest book of stories, The Whole World at Once (West Virginia University Press, 2017). She graduated from Casey-Westfield high school (2000), received her bachelor's from Indiana State University (2003), and went on to study fiction at Texas State University (2006). She now lives in Spokane, Washington with her family.
A book reading and discussion with Erin Pringle will happen this Saturday (April 7) at the Casey Township Library at 1pm.  It is free and open to the public.
About The Whole World at Once: Ms. Pringle casts a somber gaze at the formative traumas that beset blue-collar America. In "The Wandering House," a young woman is disfigured in a meth-lab explosion. The subtly disquieting tale "The Boy Who Walks" depicts a child's personality change after he nearly freezes to death while wandering through the snow. "After that day, the boy's different. Like his own ghost thinks he died, though he didn't, but now tags him everywhere he goes." You can feel that Ms. Pringle has labored over her sentences, giving them the strength of tempered steel. She has a knack for the cinematic image as well."
Sam Sacks, Wall Street Journal
"Erin Pringle's stories leave you no choice. They sing so gorgeously, break your heart so perfectly, that you're forced to revise your understanding of loss, luck, and love."  Tom Noyes, author of Come by Here: A Novella and Stories.
"Readers willing to immerse themselves in sorrow, and sometimes in narratives that twist and shimmer before taking definite shape, will find reflected in these stories the unsteady path of coming back to life-or not-after loss."  Kirkus Reviews
For more information about Pringle and her work, see www.erinpringle.com