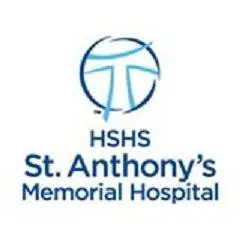 (EFFINGHAM, IL) – In recognition for successful programs to reduce their environmental impact, HSHS St. Anthony's Memorial Hospital received the Partner for Change Award from Practice Greenhealth, the nation's leading organization dedicated to environmental sustainability in health care. The award is one of the Environmental Excellence Awards given each year to honor environmental achievements in the health care sector.
The Partner for Change Award recognizes health care facilities that continuously improve and expand upon programs to eliminate mercury, reduce and recycle waste, source products sustainably, and more. Winning facilities must demonstrate that they are recycling at least 15 percent of their total waste, have reduced regulated medical waste, are on track to eliminate mercury, and have developed successful sustainability programs in many areas.
"As health care providers, sustainability is at the core of our healing mission and central to protecting the health of our patients, staff and community," said Dennis Baker, St. Anthony's Director of Facilities Management. ""We take pride in our sustainability programs and the positive impacts they have on the environment and the communities we serve. It is just one of the ways we live out our Franciscan values of reverence for the earth."
The awards will be presented at the Practice Greenhealth Environmental Excellence Awards Gala, set for May 9 in San Diego at the conclusion of the CleanMed Conference & Exhibition.
Along with HSHS St. Anthony's Memorial Hospital, two other hospitals in the Southern Illinois Division of Hospital Sisters Health System also were honored with awards from Practice Greenhealth. HSHS St. Elizabeth's Hospital in O'Fallon also won the Partner for Change Award, and HSHS St. Joseph's Hospital in Highland won the Partner Recognition Award. HSHS St. Joseph's Hospital in Breese and HSHS Holy Family Hospital in Greenville are also affiliates of HSHS and part of the HSHS Southern Illinois Division.