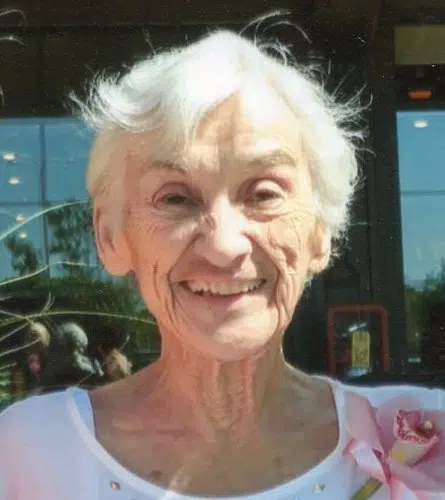 Marilyn Yvonne Talley, 83, of Toledo, IL passed away at 4:45 AM on April 16, 2018 at Lakeland Rehab & Health Care Center in Effingham.
Funeral services will be at 12:00 pm on Saturday April 21, 2018 at the Toledo Christian Church in Toledo, IL. Visitation will be held from 10:00 to 12:00 pm on Saturday at the church. Burial will at the Toledo Cemetery in Toledo, IL. The Barkley Funeral Chapel in Toledo is assisting the family.
Marilyn was born in Salem, IL on April 1, 1935 to Robert & Nell (Murphy) Brubaker. She married Hulin Talley on December 15, 1951 and he preceded her in death on February 16, 2013. She is survived by four sons, Marty (Kathy) Talley of Lawton, OK, Mark Talley of Effingham, Kenneth Talley of Effingham, and James (Amy) Talley of Greenup; two daughters Cindy (Dan) Ozier of Saint Joseph, IL and Yvonne (Tom) Hand of Effingham; Brother Robert Brubaker (Marilyn James) of St. Charles, IL; 18 grandchildren and 17 Great-grandchildren.  She was preceded in death by her parents, a Sister Bettie Ann and one great-grandchild.
Until all her children went to school Marilyn was a stay at home Mom, then she went to work at the Toledo IGA, she also worked at Kerns Manufacturing in Neoga where she retired. In her retirement years she helped her daughter in law in Daycare for children. Marilyn was a people person. She volunteered at church, Heartland Christian Village and the Life Center of Cumberland County where is was volunteer of the year in 2017. She loved her family and looked forward to all family gatherings.
The family gives thanks to all who cared for their mother while at the Villa's Holy Brook in Effingham, Lakeland Rehab and Health Care, Lincolnland Hospice, and June Robey her in home caregiver.
Memorials may be made to Lincoln Land Hospice, Lakeland Rehab Activity Fund of Toledo Christian Church.
Online condolences can be expressed at www.barkleyfuneralchapels.com