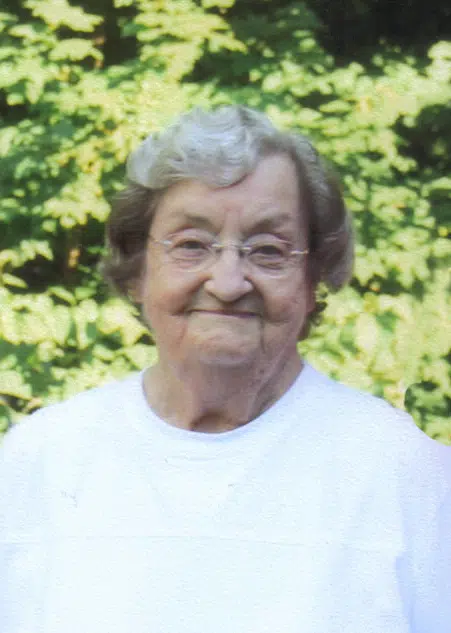 Doris Ann Myers, age 89, of Neoga, Illinois, formerly of Mattoon, Illinois, passed away at 1:25 A. M., Monday, May 21, 2018, at her residence, in Neoga, Illinois. Doris was born March 11, 1929, in Mattoon, Illinois, the daughter of Albert and Thelma (Stephens) Daily. She married Victor R. Myers, July 3, 1949, in Mayfield, Kentucky and Mr. Myers passed away February 7, 2003. Doris's family was her number one priority. She was a retired Quality inspector for the General Electric Company of Mattoon, Illinois. She was a member of the General Electric Quarter Century Club, the Mattoon Golf League both of Mattoon. Doris attended the Free Methodist Church of Neoga.
Mrs. Myers leaves two children, Vicki Sanders and husband Gary of Sigel, Illinois and Bradley Myers and wife Tina of Neoga, Illinois; three grandchildren Dara Brady of Seattle, WA, Brandi Strader of Springfield, IL and David Myers of Gays, IL; four great grandchildren, Lane Brady, Cole Brady, Brody Strader and Bradley Strader; special care giver, Bonnie Miller. Doris was preceded in death by her parents; husband, Victor " Vic" Myers; one sister, Harriett Tooley; one granddaughter, Stacy Sanders.
Memorials may be made to the Free Methodist Church, 1092 Railroad St., Neoga, IL  62447.
Funeral services will be held at 11:00  A. M., Wednesday, May  23, 2018, in the Free Methodist Church of Neoga, with the Rev. Steve Massengill officiating. Visitation for family and friends will be from 10:00 A.M., Wednesday, May 23, 2018, until service time at the Church. Burial will be in the Rest Haven Memorial Gardens of Mattoon, Illinois. The Swengel-O'Dell Funeral Home of Neoga, IL is in charge of arrangements.
on line condolences may be expressed at www.swengel-odell.com