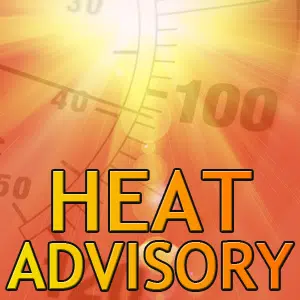 The National Weather Service issued a Heat Advisory that remains in effect until 7 p.m. Monday.
Temperature highs will climb into the lower to middle 90s through Monday, with heat index readings peaking from 100 to 105 degrees each afternoon.
What to Do
Impacts include heat illnesses as a result of prolonged oppressive heat and humidity.
According to the NWS, a Heat Advisory means that a period of hot temperatures is expected. Hot temperatures and humidity combined create a situation "in which heat illnesses are possible."
It is recommended that individuals drink plenty of water, wear light weight and loose fitting clothing, stay in air-conditioned rooms if possible and check up on relatives and neighbors.
Know the Signs
Also, the NWS recommends knowing the signs and symptoms of heat exhaustion and heat stroke.
According to the Centers for Disease Control and Prevention, signs of heat stroke include a body temperature higher than 103 degrees; hot, red, dry or damp skin; a fast, strong pulse; headache; dizziness; nausea and confusion.
Signs of heat exhaustion include heavy sweating; cold, pale and clammy skin; a fast, weak pulse; nausea or vomiting; muscle cramps; tiredness or weakness and fainting (passing out).
If it Happens
If heat stroke occurs, the CDC recommends calling 911 right away. Move the person to a cool place, help lower their body temperature by using cool cloths or give them a cool bath.
If someone is suffering from heat exhaustion, move them to a cool place, loosen their clothes, put cool, damp towels on them or have them take a cool bath and give them water.
However, if someone is vomiting, if symptoms get worse of if symptoms last longer than an hour then get medical help.