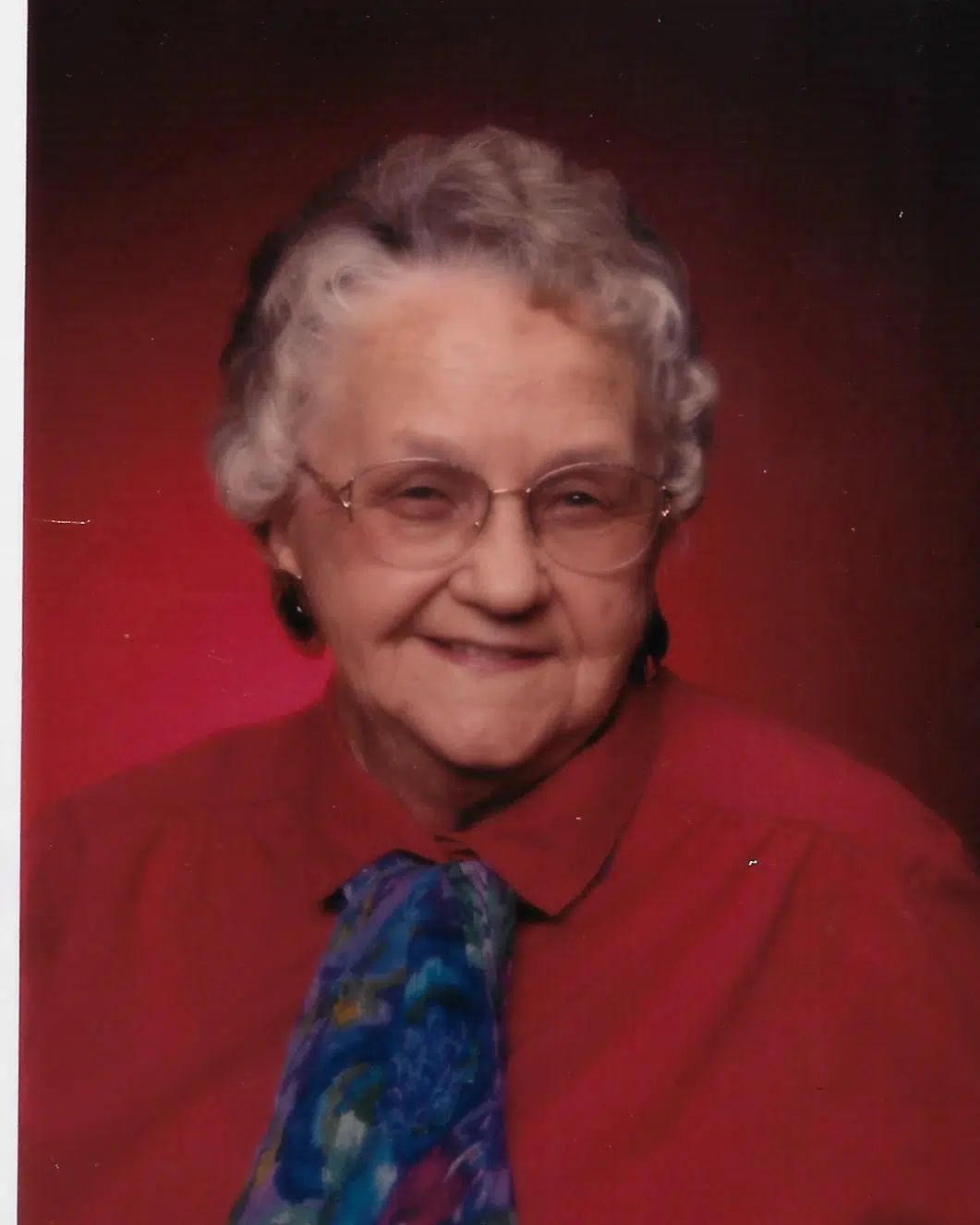 Thelma Devall Bishop of Greenup, Illinois passed away at 5:30 AM – Monday, June 18, 2018, at Cumberland Rehab and Health Care Center in Greenup, Illinois, surrounded by her family and friends.
Funeral services celebrating Thelma's life will be held at 10:00 AM – Saturday, June 23, 2018, at Meyer Funeral Home (Bishop Chapel) in Greenup, Illinois.  Burial will be in the Mt. Zion Block Cemetery on Hazel Dell road in rural Greenup, Illinois.  Visitation will be held from 5:00-7:00 PM Friday, June 22, 2018, at the funeral home.
In loving memory of Thelma, memorials may be to Cumberland Rehab and Health Care Center Activity Fund or the Cumberland County 4-H.
The obituary can be viewed and condolences left at www.meyerfh.com.
Thelma was born August 9, 1917, in eastern Cumberland County the daughter of John and Nora (Starks) Devall.
Thelma met her beloved husband Ray C. "Cork" Bishop while they both were working at the Ettlebrick shoe factory.  They were united in marriage on September 28, 1940, in Farmington, Missouri.  He preceded her in death on November 4, 1981.
Thelma worked at the Ettlebrick Shoe Factory until the birth of their daughter, Vivian.  Although Thelma never returned to the work force, she was a traditional Farm Her.  She raised chickens and sold the eggs, she took care of the cattle, taking care of calves, planted, raised and canned garden produce, fed hogs, and made delicious meals.  Thelma was never a tractor driver but helped in planting and harvesting from loading seed in planters to helping push back corn in "square" corn cribs.
Thelma was a charter member of Cumberland County HCE which was begun in 1948.  She was a former member of the former Rural Women's Club and the Greenup Civic Club.  She was a lifetime member of the Cumberland County Historical Society.  After moving to Greenup in 1984, she volunteered in the Greenup Depot each Friday for many years, as well as writing a column in the Greenup Press called Depot News.  Thelma was presented the Cumberland County Volunteer of the year Award September 17, 1997, by Eastern Illinois Aging Agency.
Thelma was a 4-Her herself in Cumberland County in the 1930's taking clothing.  She led the Silverleaf 4-H Club for 7 years.  In 2016, Thelma received the 4-H Lifetime Supporter award from Cumberland County.  She continued to sponsor 4-H with plaques, monetary support for workshops, and to the Illinois 4-H foundation.
Thelma enjoyed seeing the United States visiting all 50 states, France, Switzerland, the Holy Lands and Canada.  For 26 years she worked in the Cumberland County Fair Art Hall.
Thelma is survived by- Daughter- Vivian (Bill) Hallett of Greenup, Illinois, Grandchildren- William (Katherine) Hallett of Huntsville, Alabama and Ginger (Aaron) Kuhn of Greenup, Illinois, Great-grandchildren- Kara and Mason Hallett of Huntsville, Alabama, Sister-in-Law- Erma Jean Devall, and special nieces and nephews, friends, and staff at Cumberland Rehab.
Thelma was preceded in death by her parents, husband, brother Leland Devall and sisters Laverne Thomas and Lelia Devall.