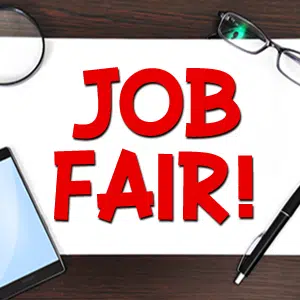 For Immediate Release
Chamber of Commerce to Conduct Job Fair 2018 on July 24th!
The Effingham County Chamber of Commerce will be conducting Job Fair 2018 at the Effingham Performance Center on July 24th, 2018 from 2pm-6pm.  The Job Fair will feature Effingham County Employers from a variety of industry sectors who are seeking candidates for current job openings. It is anticipated that the Job Fair will represent around three hundred open positions ranging from entry level to experienced and mid-level management positions.
The Job Fair is free to job seekers and is open to the public.  The Fair will also have multiple stations available for persons looking for a new job, including Resume Writing Assistance, Interview Assistance and Coaching, and Create Your Career Path-How to get and keep the job you want!  There will also be door prizes and refreshments for attendees.
Companies participating in Job Fair 2018 will include but are not limited to:
Express Employment Professionals, Quad Graphics, Pepsi Mid-America, Innovative Staffing Solutions, Midland States Bank, Koerner Distributors, One Hope United, Siemer Milling Company, Staff Quick,
Stevens Industries, Inc., John Boos & Co., HSHS St Anthony's Memorial Hospital,
Kingery Printing Company, Lake Land College, Mette's Cabinet Corner, Patterson Companies, Inc.,
The Equity, Three Z Printing, Visiting Angels, and Wabash Communications.  Attendees are encouraged to bring multiple copies of their resumes if they have them, but if they do not have one, job seeking details will be taken at registration.
JoAnn Sasse Givens, Director of Workforce Development with the Chamber of Commerce stated, "We are so very fortunate to have strong regional employers in Effingham County.  The kinds of jobs and the variety of the companies participating in this year's Job Fair are great!  Anyone exploring options, needing a change, or looking to move forward in their career needs to be at the Job Fair.  It's a very low pressure way for individuals to find out just what our companies have to offer."
Exhibitor space is limited and companies interested in participating in Job Fair 2018 should contact the Effingham County Chamber of Commerce Office at 217.342.4147, or they can register directly online at https://effinghamccoc.chambermaster.com/eventregistration/register/8260 .
The Effingham County Chamber of Commerce is the voice for business advocacy, and supports and assists businesses with innovating programs and services.  The Chamber creates opportunities for businesses to connect and build relationships while partnering with the community to achieve lasting growth.  To learn more about the Effingham County Chamber of Commerce, visit www.effinghamcountychamber.com.