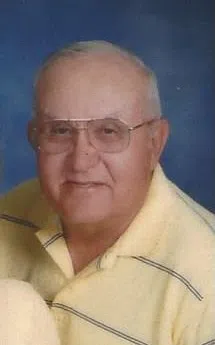 Rex G. Evans, 75, of Toledo, IL passed away at 2:28 PM on Saturday August 18, 2018 at Sarah Bush Lincoln Health Center in Mattoon, IL.
Memorial funeral services will be at 7:00 PM on Thursday August 23, 2018 at the Barkley Funeral Chapel in Toledo, IL. Visitation will be from 5:00 to service time on Thursday at the funeral chapel. Burial will be in the Janesville Cemetery at a later date. The family requests casual attire for services.
Rex was born on September 25, 1942 in rural Toledo, IL to Everett & Mary Fern (Gardner) Evans. He married Becky Leitch on June 29, 1963. Surviving is his wife; Daughter Christine Drum of Effingham and Son Michael (Brandy) Evans of Montrose; four grandchildren Megan Wells, Jerrod Evans (Courtney Thomas), Emily Evans and Abigail Evans; one great grandchild Gavin Willmore; Brother Kenneth (Susan) Evans of Mattoon; Sisters Phyllis (Glenn) Pieper of Strasburg, Patty (Dave) Hilligoss of Charleston, Marilyn Coleman of Mesa, AZ and Sue (Roger) Grissom of Greenup. Rex was preceded in death by his parents and one sister Vera Shores.
Rex was a farmer and also had been a Union Carpenter and Truck Driver. He attended the Toledo United Methodist Church; he also served on the Toledo Area Ambulance Board, Soil and Water Conservation Board and the Farm Bureau Board. Memorials can be made to the Life Center of Cumberland County. Online condolences can be expressed at www.barkleyfuneralchapels.com