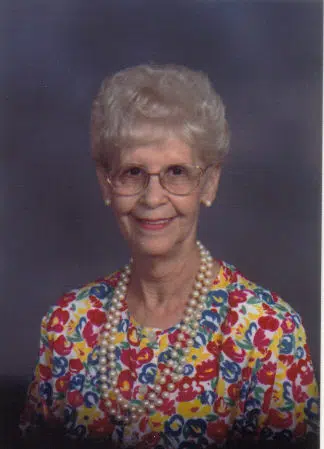 Elizabeth Karlene Baker-Gossett, 80, of Mattoon, Illinois, formerly rural Toledo, Illinois, passed away at 1:09 P.M., Friday, June 30, 2017 in the Sarah Bush Lincoln Health Center, Coles County, Illinois. She was born February 5, 1937, in St. Francis Township, Effingham County, IL, the daughter of Carl and Fleeta (Allgood) Gust. Karlene was a member of the St. John's Lutheran Church of Mattoon, IL, a graduate of the Mattoon High School and she was an employee of Spectrum Printing Co. of Mattoon.
Karlene married Kenneth E. Baker January 1, 1959 in Mattoon, IL  and Mr. Baker passed away December 25, 1982. She later married James Gossett, February 12, 1988 and Mr. Gossett passed away August 25, 1999. Karlene leaves three sons, Doug Baker of Mattoon, IL; Dennis Baker (Holly) of Cowden, IL and Darryl Baker (Sandy) of Toledo, IL; eight grandchildren, Kelcie Baker of Westminister, VT, Kaylee Baker of Mattoon, IL, Ross (Rosie) Baker of Greenville, IL, Sydney Baker of Phoenix, AZ, Tyler Sarver (Carisa) of Oceanside, CA, Tia O'Dell (Alex) of Blanchard, OK, Dustin Wemple
(Jenn) of Belleville, IL and Allyshae Meyers of Vandalia, IL: nine great grandchildren, Peyton, Trey, Greyson, Adalynn, Clark, Theo, Kleyton, Joey and Maekenzie, many friends and classmates. Karlene  was preceded in death by her parents, husbands, Kenneth Baker and James Gossett; one grandson, Carson Baker; one brother, Roger Inman. Memorials may be made to Donor's Choice.
Funeral Services will be at 11:00 A. M., Thursday, July  6, 2017, in the Swengel-O'Dell Funeral Home of Neoga, with the Rev. Glenn Strohschein officiating. Visitation will be held from 10:00 A.M., Thursday, until service time at the funeral home. Burial will be in the Neoga Memorial Cemetery in Neoga, IL.
on line condolences may be expressed at swengel-odell. com