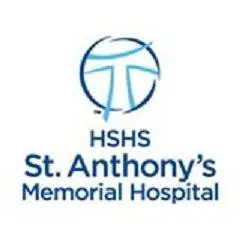 HSHS St. Anthony's Memorial Hospital recently held colleague celebration events during National Hospital Week, honoring the service of all St. Anthony's colleagues or Hospital Sisters Health System (HSHS) and Southern Illinois Division (SID) colleagues located in Effingham.  Forty-three colleagues received service awards in recognition of their years of dedicated service for every five years of service to St. Anthony's, from 5 to 40 years.
A prayer service was celebrated in the hospital Chapel at the beginning of the week, and the service awardees were honored with a special banquet during Hospital Week at the Keller Convention Center, where they and their guest enjoyed dinner and a social with their director or manager, along with members of the Administrative Team. In addition, they enjoyed a cookout during Hospital Week with their colleagues at the hospital.
The following St. Anthony's and HSHS colleagues received awards for their service to the hospital:
40 Years
Ross Richardson
35 Years
Cindy Herd
Janet Probst
Joan Printz
Marie Cyr
30 Years
Carla Douthit
Linda Willenborg
25 Years
Ellen Ritz
Lucie Tuttle
20 Years
Kelly Sager
Theresa Harner (SID)
15 Years
Audra Fleeharty
Cheryl Osborn
Leah Passalacqua
Lynda White
Mary Flach
Natalie Evans
Paula Bushur
Sara Konrad
10 Years
Cheryl Simmons
Christine Walters
Dennis Baker
Jerry Beesley
Jenna Cook
John Merryman
Lynn Bierman
Mary Meyer
Nancy Bush
Pam Diel
Rachel Sandschafer
Tiffany Tarr
5 Years
Debra Steele
Debra Wendt
Delores Pals
Dylan Myers
Hailey Wendt
Jason Hayes
Lois Ratermann
Michelle Harris
Ryan Lewis (HSHS IT)
Shannon Wright
Stephanie Benson
Kathy Gibson (SID)
St. Anthony's Memorial Hospital thanks all hospital colleagues for their dedicated service to the hospital. For more information about HSHS St. Anthony's Memorial Hospital, visit St. Anthony's web site at stanthonyshospital.org.  HSHS St. Anthony's Memorial Hospital is part of the Southern Illinois Division of Hospital Sisters Health System, which also includes HSHS St. Elizabeth's Hospital in Belleville, HSHS St. Joseph's Hospital in Breese, HSHS Holy Family Hospital in Greenville, and HSHS St. Joseph's Hospital in Highland.