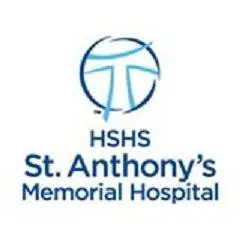 Each year, HSHS St. Anthony's Memorial Hospital presents an "I Promise Award" to the four people who are most representative of the hospital's four Core Values of Respect, Care, Competence and Joy.  The four annual I Promise Award winners are selected from 16 I Promise Award quarterly winners selected throughout the year, all of which are nominated for the award by St. Anthony's colleagues.
The 2016 I Promise Award winners were named during a presentation at a special colleague banquet held at the Keller Convention Center during Hospital Week in mid-May. The 2016 I Promise Award winners were:
Andy Habing, Respiratory Therapy: Habing was nominated for helping a young teenage mother who had a baby who had been a patient for a long time. The nomination read, "He noted she seemed sad and tearful when he was caring for her baby. He purchased her a Little Caesars Pizza and brought her some pop. She had the biggest smile and her eyes lit up when he brought it to her. She was very grateful. Andy always goes above and beyond whenever he cares for his patients."
Gary Hermsmeyer, Emergency Services: Hermsmeyer was nominated for helping a couple not from this area that came into the ER following a car wreck that totaled their car. The couple was newlywed and both were senior citizens. Hermsmeyer took it upon himself to call several car rental places to try to get a car for them, but to no avail due to area special events. He took the couple home with him and put them up in a motel overnight until a rental car came in the morning.
Patsy Lilly, Wound Healing Center: Lilly was nominated for the ways she goes above and beyond her expected duties to demonstrate teamwork, exceed her customers' expectations, and exhibit integrity and commitment while continually elevating her care. Some examples shared in the nomination included; how she creates a team atmosphere with the nurses and staff and she encourages her team to strive for the best possible outcomes; always making patients her priority, regardless of what their need is; and taking time out of her numerous responsibilities to give guidance and educational direction in proper wound care.
Charles Veatch, Jr., Plant Services: Veatch was nominated for going above and beyond by fixing a visitor's car. On a hot and humid day in September, he fixed their car that had a broken fan belt and other issues. He was nominated by a colleague who heard about him fixing the car for the visitor. As a mechanic, Veatch used his gifts to help someone out and was happy to make their day.
The winners each received a trophy and gift card from the hospital for being named an I Promise Award winner. HSHS St. Anthony's Memorial Hospital congratulates these colleagues and thanks them for demonstrating St. Anthony's Core Values in their work, demonstrating that "we are St. Anthony's and we make a difference."
For more information about HSHS St. Anthony's Memorial Hospital, visit St. Anthony's Web site at stanthonyshospital.org.  HSHS St. Anthony's Memorial Hospital is part of the Southern Illinois Division of Hospital Sisters Health System, which also includes HSHS St. Elizabeth's Hospital in Belleville, HSHS St. Joseph's Hospital in Breese, HSHS Holy Family Hospital in Greenville, and HSHS St. Joseph's Hospital in Highland.