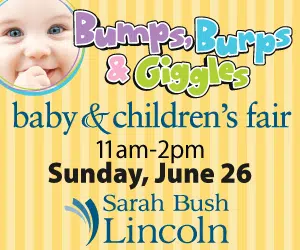 If you are an expectant parent, new parent or even an experienced parent or grandparent, Bumps, Burps and Giggles Baby and Children's Fair has something for you.
The 2016 Bumps, Burps & Giggles Baby and Children's Fair will be held from 11 am to 2 pm, Sunday, June 26, in the Lumpkin Family Center for Health Education Center at Sarah Bush Lincoln. It is free and open to the public.
The Baby and Children's Fair provides information and education regarding areas of interest to expectant and new parents, as well as highlighting services provided by the Health Center and community groups geared toward expectant and new parents. More than 25 community agencies and area businesses are offering informational displays, and opportunities to purchase items.
The interactive fair gives participants and opportunity to view obstetrical equipment used on the Women & Children's Center and talk with staff members about their questions and concerns. Participating Sarah Bush Lincoln services include Oh, Baby! Perinatal and Infant Care Education, Dental Services for women and children, nutrition, Physical Therapy, Speech & Hearing, ENT, Breastfeeding, Car Seat Clinic, Physician referral, Lincolnland Home Medical Equipment, and Birth Companions.
Community groups include Child Care Resource & Referrals, Douglas-Hart Nature Center, Mattoon Library, Face Painting, YMCA, Jazzercise, and Parent2Parent, a parents support group.
The Beautiful Baby Photo Contest is available to those who attend the fair to vote with money set aside for their choice. All activity funds will help pay for expenses related to the fair. The 4 on the Floor crawling contest will be held at noon and participants will be "revving" their motors to vie for the title of "WINNER."
Baby and Children's Fair coordinator Pam Hood, RN, said, "This is always one of the cutest, most popular activities with the babies being required to stay in their lanes and crawl to their parents across the course, the length of one of the large classrooms in the Education Center. If any baby stands up and walks, they will be disqualified. Hopefully, everyone will respect the 'Rules of the Road.'"
Children can also attend a Teddy Bear Clinic in which they can provide care to a stuffed animal.
A variety of exceptionally nice prizes will be available to win, including an entire baby bedroom suite (convertible crib, mattress, bedding, dresser, changing table, and MamaRoo), a Pack-n-play, a Vera Bradley bag packed with baby gifts valued at approximately $150, and more. The main prize (bedroom suite) is the only raffle that isn't free; tickets are just $1 each, or six for $5.
Participating vendors will also have products for sale. Those vendors include Thirty One, Sugar and Spice, Gold Canyon Candles, Baby and the Bean Stalk, J-Wag Photo, Usborne Books and more.
Hood said, "It is a delight to see so many expectant and new parents come out and take advantage of all the activities and education. This is always a popular event."