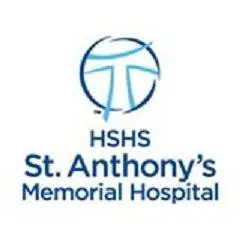 The HSHS St. Anthony's Memorial Hospital Foundation invites you to be a part of their 8th Annual Golf Benefit on Friday, July 15 at noon at the Effingham Country Club.  The theme for this year's event is "Keeping Our Community in Rhythm with 'Holes for Heart Care.'"  This promises to be a day of exciting activities, and outstanding golf.
Registration begins at 10 a.m.  Lunch will be served from 10:30 to 11:45 a.m. with a dinner provided that evening.  A shotgun start at noon begins the four-person scramble which consists of thirty-two teams of four players.  There will be several contests throughout the event including a Hole-In-One Contest.  A special feature for this year's event includes one person in each foursome winning a $100 gift card to a local/regional food or service provider.
Michael Wall, St. Anthony's Director of Philanthropy, shared the very special history of the Golf Event. "In 2009, Jonathan Kabbes organized the 1st Annual 'Golf for a Cure' to benefit St. Anthony's Memorial Hospital.  Jonathan wanted to do something to help fight cancer in his community," he explained.  "For two years he volunteered his time to organize the 'Golf for a Cure.'  He has teamed with the hospital to host the Golf Benefit, which last year netted over $31,000," Wall said.  "The Foundation has been honored to partner with Jonathan over the past six years to continue to make this fundraiser a success."
Proceeds from previous Golf Benefits have supported the Hope & Healing Imaging Department campaign, the Maternity Unit Renovation project, Hospice, and Emergent Cardiac Care.  Proceeds from this year's Golf Benefit will support Emergent Care at HSHS St. Anthony's Memorial Hospital.  Cardiovascular disease is the number one cause of death in the United States.  St. Anthony's continues to educate and reach out to the community about the importance of early identification.  The sooner heart issues are identified, the better.  Proceeds will be combined with the funds raised during last year's Golf Benefit to purchase the EMS CAREpoint Workstation, and, as funds allow, an AutoPulse Cardiac Support Pump/CPR Board.
Register your team today for the Foundation's "Holes for Heart Care" Golf Benefit.  There are a variety of sponsorships opportunities available with many levels to choose from.  The HSHS St. Anthony's Foundation expresses its thanks to Air Evac Lifeteam for their "Listen to your Heart" event sponsorship.
If you are interested in participating, volunteering, becoming a Golf Benefit Sponsor or purchasing a Raffle Ticket to support "Holes for Heart Care" and the HSHS St. Anthony's Foundation, contact Michael Wall, Director of Philanthropy, at (217) 347-1854 or email him at michael.wall@hshs.org.  For more information about the Foundation, visit the hospital's Web site at stanthonyshospital.org. HSHS St. Anthony's Memorial Hospital is part of the Southern Illinois Division of Hospital Sisters Health System, which also includes HSHS St. Elizabeth's Hospital in Belleville, HSHS St. Joseph's Hospital in Breese, HSHS Holy Family Hospital in Greenville, and HSHS St. Joseph's Hospital in Highland.