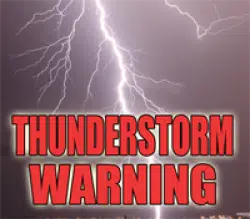 The National Weather Service in Lincoln has issued a Severe Thunderstorm Warning for Clark County in East Central Illinois until 4:15 PM.
At 3:43 a Severe Thunderstorm was located along Clarksville and Casey moving Southeast at 95 mph.
Locations impacted include: Marshall, Casey, Martinsville, Westfield, West union, Clarksville, Dennison, York, Darwin, Orange, Lincoln Trail State Park and Interstate 70 Between mile markers 127 and 154.
This storm is capable of producing 70 mph wind gusts and quarter sized hail.
Expect hail damage to vehicles, tree damage, and the chance of wind damage is expected to mobile homes, roofs, and outer buildings.
For your protection move to an interior room on the lowest floor of a building.