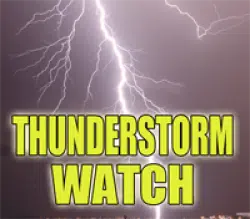 The National Weather Service in Lincoln has issued a Severe Thunderstorm Watch for the Following counties:
-Clark, Clay, Coles, Crawford, Cumberland, Douglas, Edgar, Effingham, Fayette, Jasper, Lawrence, Marion, Moultrie, Richland, and Shelby.
At this time it is a Watch, which just means conditions are favorable. The Watch at this time is expected to remain in effect until 10:00 PM CDT.