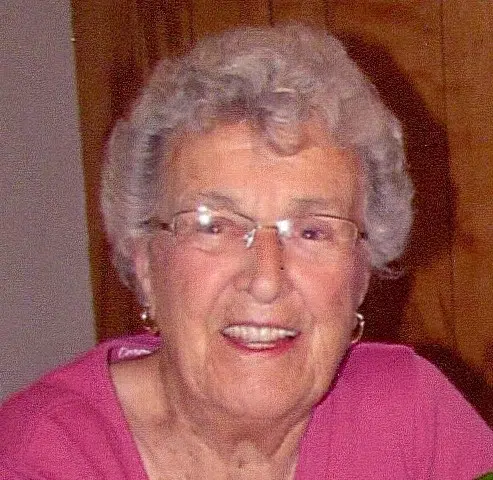 Betty Jewell Carr, 91, a longtime resident of the Windsor area passed away peacefully June 16, 2016 at Heartland Christian Village of Neoga.  Born August 22, 1924 in Shelbyville she was the oldest daughter of Hal and Nina (Bence) Hennigh.  She attended Walden and Prairie Schools, Windsor High School and Sparks Business College.  Betty married Russell (Rusty) Carr May 10, 1945 in Decatur.
She is survived by two sisters Mary Lou Rihl of Plain City, OH and Joy (Bob) Caspary of Windsor; daughter Linda (Randy) Rose of Monticello; son Jerry Carr of Effingham; daughter-in-law Janet Carr of Windsor; six grandchildren; nine great-grandchildren; nieces, nephews and lifelong friends.  Preceding her in death were her parents, husband Rusty, youngest son Michael and great-grandson Tyler Carr.
Betty lived an active life for many years.  As a child she worked on the family farm with her father.  After marrying, Betty and Rusty farmed together.  In her later years she still liked to discuss the crop situation.  She was active in the Windsor United Methodist Church.  Betty worked as a receptionist and office assistant for Dr. Taylor in Windsor.  After retirement she worked in the pro shop at Angus Links golf course.  Betty and Rusty spent many winters in Bonita Springs, FL where they made great friends and enjoyed a relaxed lifestyle.  She was a wonderful seamstress making her daughter's wedding gown, a great cook who could whip up a delicious meal with whatever was on hand.  Betty and Rusty had happy memories traveling in their camper, dancing, playing cards and mushroom hunting with family and friends.  She was happiest spending time with her children, grandchildren and great-grandchildren.  She was very proud of them and their accomplishments.
The last few years she has called Heartland Christian Village her home.  She loved the staff and kept them on their toes.  Betty will be remembered as an outgoing, vibrant, one of a kind personality.  She will be remembered fondly and missed by many.
Visitation will be held at Lovins-Lockart Funeral Home in Windsor on Saturday, June 25, 2016 from 10 a.m. until the time of service at noon.  Burial will be in Windsor Cemetery.  Memorials may be made to Journey for Jordan or the Windsor United Methodist Church.  Online condolences may be left for the family at www.lockartgreenfuneralhome.com.