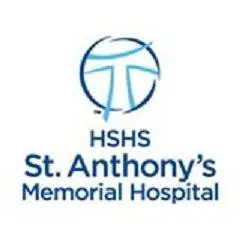 St. Anthony's Memorial Hospital honored Auxilians at the Auxiliary Appreciation Event and Annual Meeting held May 11 at the Keller Convention Center.
After lunch the Auxilians received a presentation on St. Anthony's Outpatient and Ancillary Services by Michael Janis, St. Anthony's Executive Director of Outpatient and Ancillary Services.
During the Annual Meeting, service awards were presented to the Auxilians for their volunteer hours given to the hospital.  The following Auxilians received awards for their cumulative hours of service to the hospital:
38,500 Hours
Rose Boggs
10,500 Hours
Donna Zerrusen
8,000 Hours
Lois Repking
7,500 Hours
Bernadette "Bernie" Niemann
6,500 Hours
Marilyn Schaefer
2,500 Hours
Marilyn Cline
2,000 Hours                       
Mary Jane Koester
Blanche Ready
1,500 Hours
Ruth Jansen
1,000 Hours
Rita Thoele
Kathern Upchurch
800 Hours
Jeanne Balcer
Regina Figueroa
Karen Platz
500 Hours
Doris Hammer
Tess Probst
300 Hours                           
Carlene Holste
Marilyn More
Judy Wolfe
100 Hours
Marty Brumleve
Abby Dowling
Jack Dowling
Mary Lou Eske
Arlene Fehrenbacher
Mary Haag
Melissa Kruse
Margaret "Maggie" Longsworth
Mary Lou Schaefer
Elaine Tegeler
Leonard Waldhoff
Robin Westendorf
Elections were held to select officers for the Auxiliary Executive Committee.  The members elected and installed as the Executive Committee for the 2016-2018 term are Marilyn Schaefer, President; Donna Zerrusen, Vice-President; Lois Repking, Secretary/Treasurer; Mary Jane Koester, Membership Services Chairperson; Kathern Upchurch, Special Events Chairperson; Rose Boggs, Guest Amenities Chair/Gift Shop Liaison; and Bernie Niemann, Immediate Past President.
For more information about the Auxiliary and their activities, contact the Auxiliary Membership Coordinator, Mary Jane Koester, at 217-857-3697 or Alta Welker, St. Anthony's People Services Volunteer Coordinator, at 217-347‑1335, or visit the hospital web site at stanthonyshospital.org.
HSHS St. Anthony's Memorial Hospital is part of the Southern Illinois Division of Hospital Sisters Health System, which also includes HSHS St. Elizabeth's Hospital in Belleville, HSHS St. Joseph's Hospital in Breese, HSHS Holy Family Hospital in Greenville, and HSHS St. Joseph's Hospital in Highland.
About Hospital Sisters Health System
Hospital Sisters Health System's (HSHS) mission is to reveal and embody Christ's healing love for all people through our high quality, Franciscan health care ministry. HSHS provides state-of-the-art health care to our patients and is dedicated to serving all people, especially the most vulnerable, at each of our 14 Local Systems and physician practices in Illinois (Belleville, Breese, Decatur, Effingham, Greenville, Highland, Litchfield, and Springfield) and Wisconsin (Chippewa Falls, Eau Claire, Oconto Falls, Sheboygan, and two in Green Bay). HSHS is sponsored by Hospital Sisters Ministries, and Hospital Sisters of St. Francis is the founding institute. For more information about HSHS, visit www.hshs.org.  For more information about Hospital Sisters of St. Francis, visit www.hospitalsisters.org.