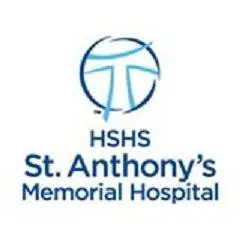 HSHS St. Anthony's Memorial Hospital recently donated two Automated External Defibrillators (AEDs) to the Effingham County Fair Board to assist them in emergency preparedness.  In addition, Community Programs instructors from the hospital are providing fairgrounds' staff members and volunteers with training on CPR and how to use the AED.
An AED is a portable defibrillator designed to be automated such that it can be used by those without substantial medical training who are responding to a cardiac emergency.  The defibrillator delivers a brief electroshock to the heart through electrodes (pads) placed on the chest.  With the AED, it can check a person's heart rhythm through the pads, recognize a rhythm that requires a shock, and advise the rescuer when a shock is needed, using clear and concise voice prompts on placing the pads and when to step away before the shock is delivered.
This is the fourth organization to which St. Anthony's has donated AEDs, as well as provided CPR training for their staff.  Previous to this donation, the hospital also donated AEDs and provided training to the Effingham Performance Center, the Grove Township Community Center, and the Richard E. Workman Sports and Wellness Complex.
Cardiac arrest is the leading cause of death in the U.S. According to the American Heart Association, each year, emergency medical services (EMS) treat about 360,000 victims of cardiac arrest before they reach the hospital, Less than 10 percent of those victims survive. Using an AED is an effective treatment for restoring a regular heart rhythm during sudden cardiac arrest and is an easy to operate tool for someone with no medical background.  And with cardiac arrest, time is of the essence. The American Heart Association estimates that a victim's chance of survival decreases by 7 to 10 percent for every minute that passes without defibrillation.
Dale Laue, a member of the Effingham County Fair Board, shared, "We really appreciate the donation here because we have thousands of people out here in the heat.  This will be a great thing to have should something unforeseen happen."
St. Anthony's President and CEO Theresa Rutherford shared, "St. Anthony's ministry extends outside our walls to ensure that we are providing the best possible care where it is needed.  We always hope that they won't ever be needed, but if we can help provide the equipment and training so area citizens can help save a life before EMS can get there, then it is more than worth the expense," she said.
For more information about HSHS St. Anthony's Memorial Hospital, visit St. Anthony's Web site at stanthonyshospital.org. HSHS St. Anthony's Memorial Hospital is part of the Southern Illinois Division of Hospital Sisters Health System, which also includes HSHS St. Elizabeth's Hospital in Belleville, HSHS St. Joseph's Hospital in Breese, HSHS Holy Family Hospital in Greenville, and HSHS St. Joseph's Hospital in Highland.