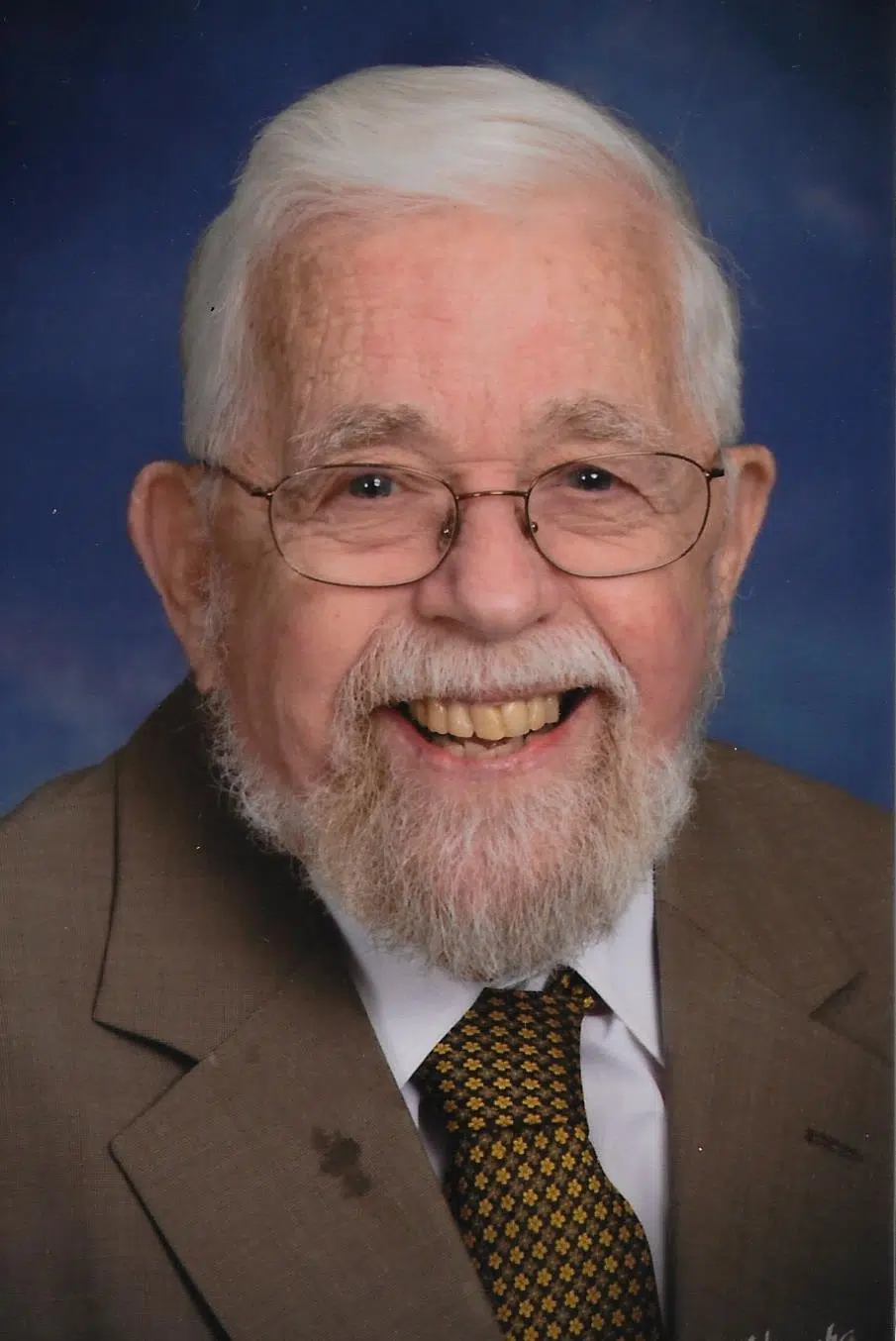 Paul Edwin Mullinax, of Ste. Marie, Illinois, passed away at 9:22 AM – Saturday, July 9, 2016, at Crawford Memorial Hospital – Magnolia Center in Robinson, Illinois.
Mass of Christian Burial will be celebrated at 10:00 AM – Wednesday, July 13, 2016 at St. Mary of the Assumption Catholic Church in Ste. Marie, Illinois, with Fr. Robert Spriggs and Fr. Dean Probst celebrating mass.  Burial will be in the St. Mary's Cemetery in Ste. Marie, Illinois, with full military rites by the Ste. Marie American Legion Post #932.  Visitation will be held 5:00-7:00 PM – Tuesday, July 12, 2016 at the church and 1 hour before the mass.  Arrangements are under the care of the Meyer Funeral Home in Newton, Illinois.  The obituary can be viewed and condolences left at www.meyerfh.com.
Paul Edwin Mullinax was born and raised in Olney, Illinois on April 18, 1922 the son of Charles Howard and Nina Madora (Nicholas) Mullinax. He attended Olney Public Schools and graduated with the Class of 1939.
Paul worked at Schaulhausen Drug Store upon graduation as a soda jerk until he enlisted in the U.S. Army in 1942. He served during WWII at Key West, FL and Kahuku Battery Camp in Oahu, HI. Discharged in 1946, he took advantage of the GI Bill and began his education at Oklahoma A & M transferring University of Oklahoma in 1950  with a B.S.in Geology.
On February 14, 1952, he married Rosemary Christine Hartrich at St. Mary of the Assumption Catholic Church in Ste. Marie. They were married 48 years at the time of Rosemary's death on December 23, 2001. Paul and Rosemary loved life and shared many experiences. Paul was a very faithful and loving companion to Rosemary, especially during the many years of her compromised health. They were blessed by six children, eight grandchildren, and seven great grandchildren.
Paul was first employed as a geologist for Pure Oil in Olney and transferred to their Calgary, Alberta, Canada offices in 1957. Paul and Rosemary returned to Illinois in 1961 and Paul began working for Zanetis Oil in Olney. During the downturn in oil production in the 1970's, Paul started teaching science in local schools and received his M.S. in Education at Eastern Illinois University. He taught for ten years before he returned to petroleum geology as a consulting geologist until finally entering full time retirement at the age of 89.
Paul's faith was a cornerstone of his life. He and Rosemary were very active in St. Mary's Church. They were Eucharistic Ministers, coordinators of the Faith and Light Program, readers and especially enjoyed singing in the church choir. They served on countless committees, fundraising events, missionary work and were committed to spreading the gospel.  They attended mass several times a week and were faithful servants to the less fortunate.
Paul was a lifelong learner. His curiosity was limited only by time and health. His interests varied greatly. He loved photography, gardening, weather, fishing, trees, watching sports, and astronomy. He encouraged his children and students to find wonder and enjoyment in all of nature. Paul volunteered his time helping many others in different ways. He was an adult literacy volunteer, a Hospice Outreach volunteer, active in the Ste. Marie Community Club from its inception until 1987. He planted numerous trees in the city park, coached his children's softball teams and helped many young people identify and classify leaves for school and 4-H projects.
He especially loved spending time with his family. He loved playing cards and trivia games, watching Cardinal games, listening to music, telling corny jokes, and researching family genealogy. Paul was a quiet pillar of the community, and supported many charitable causes, whose quick witted humor lit up the faces of many.
Survivors include children Stephen Mullinax and wife, Lita of Prescott Valley, AZ; Christine Mullinax of Bisbee, AZ; Gina Fox and husband Stephen of Newton; Maureen Mullinax of Cincinnati, OH; Mary Anne Del Rio and husband Nick of Bakersfield, CA; and Laura Swan and husband Tim of Vincennes, IN. Grandchildren:  Leslie Taggart and husband Matthew of Charleston, IL; Sarah Grissom and husband John of Castle Rock, CO; Shiloh Mullinax, deceased; Malachi Mullinax of Phoenix, AZ; Allison Tharp of Winona, MN; Sam Del Rio of Redlands, CA; Evan Fox of Newton; and Adam Del Rio of Bakersfield, CA. Great grandchildren Grant, Claire, Luke and Kate Taggart of Charleston and Grace, Henry, and William Grissom  of Castle Rock, CO. Sisters-in law Mary Hartrich and Maxine Hartrich and brother-in-law Eugene Hartrich all formerly of Ste. Marie, IL and special friend, Evelyn Kocher.