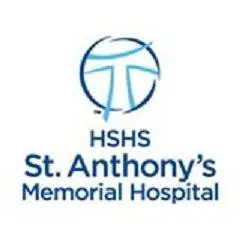 The HSHS St. Anthony's Foundation recently received a generous donation from Jake and Roger Buhnerkempe of J&R Collision Centers of Effingham, Shelbyville and St. Louis. J&R Collison Centers donated $1,000 in toys, educational materials and physical development items for St. Anthony's Physical Rehabilitation and Wellness department, located at the Richard E. Workman Sports and Wellness Complex.
The donated items will assist St. Anthony's therapists in their pediatric early intervention therapy program. The program offers therapy for children infants through age three that have gross and fine motor, sensory and speech developmental delays.  The additional toys and educational materials will allow St. Anthony's therapists to offer a more consistent treatment session for each pediatric patient. Prior to the donation, therapists had to share items which caused variations in treatment sessions if a particular item was unavailable. With the donation, patients and therapists now have toys that are designed for specific ages and abilities, allowing the therapist to develop enhanced individualized plans of care for each patient.
Candy Jansen, St. Anthony's Director of Rehabilitation and Wellness, explained how this donation assists the therapists in providing care. "Our therapy services to children in our community have grown significantly. While we had therapy toys and items to provide their treatment, the therapists did not have all the resources to creatively treat the wide variety of patients they encounter on a daily basis," she said. "Receiving these items allows the therapists to develop supplemental individualized plans of care and help their patients progress in their treatment, using more challenging concepts in a fun way."
Jake Buhnerkempe, co-owner of J&R Collison Centers, shared why they wanted to make this contribution to the hospital's Physical Rehabilitation and Wellness department.  "At J & R Collison Centers, we pride ourselves on impacting our community in a positive way.  Since starting our business in Effingham in 2014, we have contributed to 40 businesses in the area," he shared. "I was aware of the need that the Physical Rehabilitation department had for these items, since my wife is a therapist for St. Anthony's.  Working with the staff, we purchased the items that they needed.  We are glad our donation can impact young lives in our community and help them get the right start in life."
Michael Wall, Director of Philanthropy at St. Anthony's Memorial Hospital, expressed his gratitude at the donation. "On behalf of the Foundation Leadership Council, I want to thank the team at J & R Collision Centers for their generous gift.  Jake saw a need and provided the resources to make a difference in the lives of our patients," he said.  "The Foundation is honored to partner with J & R Collision Centers in support of our ministry of healing."
For more information about the HSHS St. Anthony's Foundation, contact Michael Wall, Director of Philanthropy, at 217-347-1854 or michael.wall@hshs.org, or visit St. Anthony's Web site at www.stanthonyshospital.org/Giving.  HSHS St. Anthony's Memorial Hospital is part of the Southern Illinois Division of Hospital Sisters Health System, which also includes HSHS St. Elizabeth's Hospital in Belleville, HSHS St. Joseph's Hospital in Breese, HSHS Holy Family Hospital in Greenville, and HSHS St. Joseph's Hospital in Highland.