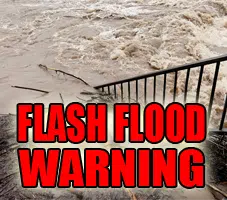 THE NATIONAL WEATHER SERVICE IN LINCOLN HAS ISSUED A

* FLASH FLOOD WARNING FOR...
  SOUTHERN JASPER COUNTY IN SOUTHEASTERN ILLINOIS...

* UNTIL 445 PM CDT

* AT 1218 PM CDT...DOPPLER RADAR INDICATED THUNDERSTORMS WITH
  HEAVY RAIN APPROACHING THE WARNED AREA. NEARLY 2 TO 3 INCHES
  OF RAIN HAS ALREADY FALLEN FROM THE LATE MORNING THUNDERSTORM
  ...PRIMARILY BETWEEN NEWTON AND WEST LIBERTY. FLASH FLOODING
  IS EXPECTED TO BEGIN SHORTLY.

* SOME LOCATIONS THAT WILL EXPERIENCE FLOODING INCLUDE...
  NEWTON...STE. MARIE...WILLOW HILL...WEST LIBERTY...BOGOTA...
  AND LATONA.

PRECAUTIONARY/PREPAREDNESS ACTIONS...

TURN AROUND...DON`T DROWN WHEN ENCOUNTERING FLOODED ROADS. MOST FLOOD
DEATHS OCCUR IN VEHICLES.

EXCESSIVE RUNOFF FROM HEAVY RAINFALL WILL CAUSE FLOODING OF SMALL
CREEKS AND STREAMS...COUNTRY ROADS...FARMLAND...AND OTHER LOW LYING
SPOTS.