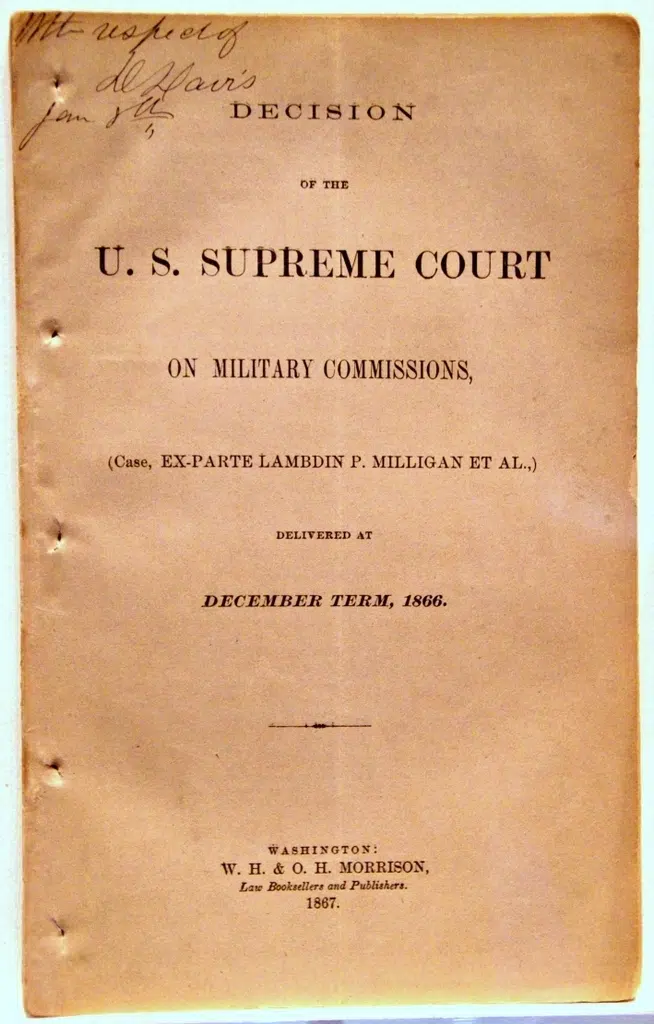 An opinion written 150 years ago by Supreme Court Justice David Davis has gained new importance as America grapples with how to handle suspects in the war on terror. Now the David Davis Mansion State Historic Site and Illinois State University are collaborating on an academic conference exploring the opinion and its ramifications.
The conference, "Ex Parte Milligan at 150," welcomes proposals for papers and panel discussions. The deadline to submit ideas is Aug. 15. For details, visit http://milliganconference.illinoisstate.edu.
The Milligan case involved Abraham Lincoln's policy of using military tribunals to try civilians during the Civil War. The majority opinion was written by Davis, who helped get Lincoln elected president and then was appointed by Lincoln to the Supreme Court.
Yet the decision repudiated Lincoln's policy on military tribunals. It held that trial by military commission was acceptable only when there was a real war and when civilian courts were impaired.
Davis, in an opinion written in Bloomington, concluded that, "the Constitution of the United States is a law for the rulers and people, equally in war and in peace, and covers with the shield of its protection all classes of men, at all times and under all circumstances."
The ruling established limits on a president's war powers, but was mostly forgotten during the 20th century. Then came the Sept. 11 terrorist attacks, U.S. wars in Afghanistan and Iraq, and new questions about the rights of people held on suspicion of terrorism.
Now it is part of a continuing legal debate on civil rights and executive powers.
The conference – its full name is "Ex Parte Milligan at 150: The Constitution & Military Commissions in American Wars on Terror" – takes place Sept. 22-24. The deadline to register is Sept. 5.
It includes continuing professional development units (CPDUs) from the Constitutional Rights Foundation Chicago and the Center for Civic Education's "We the People" program. It also includes a continuing legal education component sponsored by the McLean Co. Bar.
The David Davis Mansion State Historic Site was built in 1872 for Davis and his wife, Sarah. In addition to being Lincoln's campaign manager and a Supreme Court justice, Davis also served in the U.S. Senate.
The site is open Wednesday through Saturday from 9 a.m. to 4 p.m. for free public tours.
It is operated by the Illinois Historic Preservation Agency. IHPA protects the state's historic resources, which contribute to education, culture and the economy. IHPA sites include ancient burial mounds, forts and buildings erected by settlers, and homes connected to famous Illinoisans.