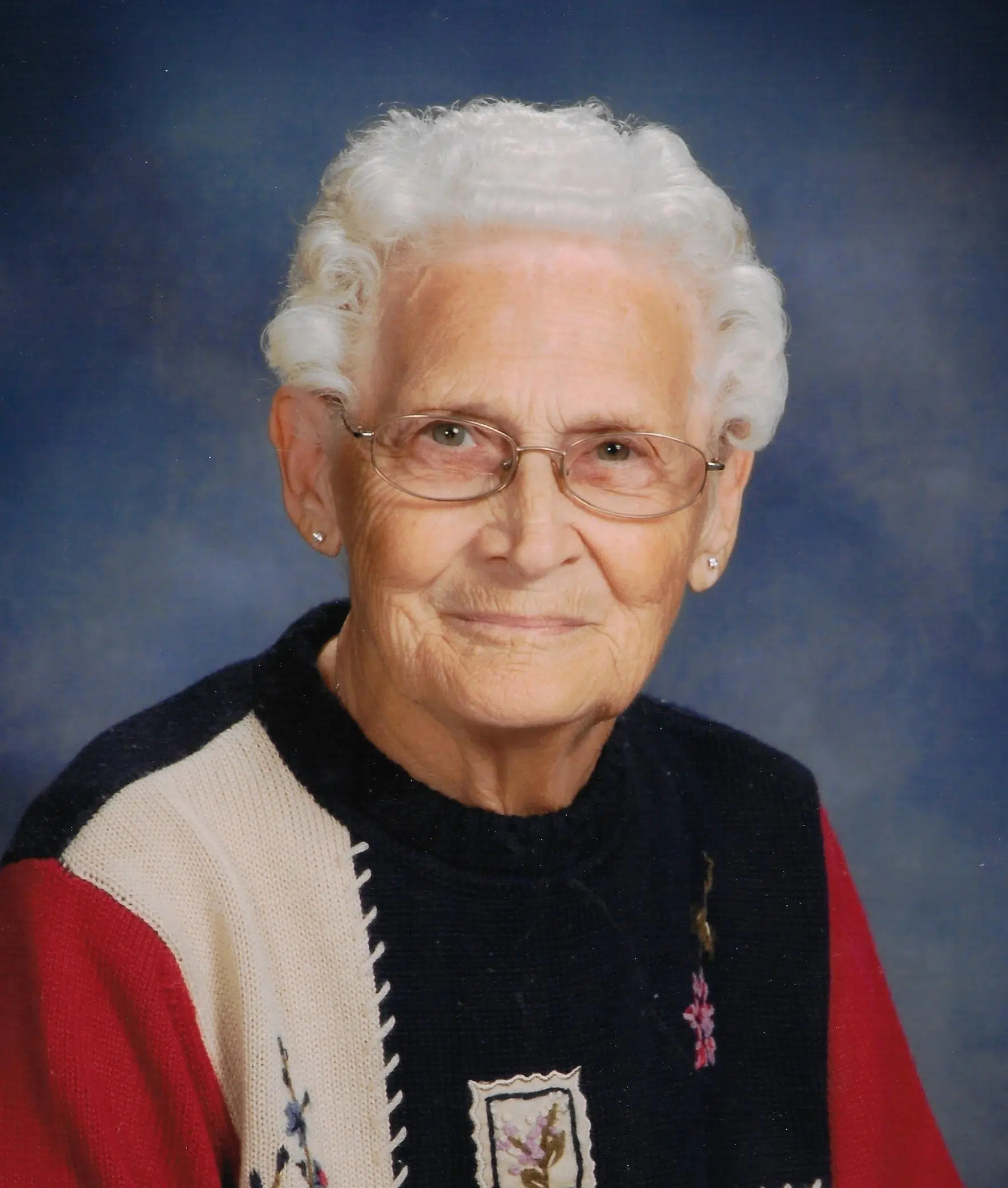 Betty Ann Marshall, age 84 of Newton, Illinois, passed away peacefully and gained her angel wings on Monday July 18, 2016 at 11:35 AM, where the Lord, her sister Jean and her brother-in-law Chuck, were waiting for her with open arms, after a brief stay at Lakeland Rehabilitation and Health Care Center in Effingham, Illinois.
Mass of Christian Burial will be celebrated at 10:00 AM – Friday, July 22, 2016 at St. Thomas the Apostle Catholic Church in Newton, Illinois, with Fr. Dean Probst and Fr. Dan Bergbower celebrating mass.  Burial will be in the Mt. Calvary Cemetery in Newton, Illinois.  Visitation will be held 5:00-7:00 PM – Thursday, July 21, 2016 at the church.  In loving memory of Betty, memorials may be made to the St. Thomas School.
Arrangements are under the care of the Meyer Funeral Home in Newton, Illinois. The obituary can be viewed and condolences left at www.meyerfh.com.
Betty Ann was born on March 22, 1932, in Newton, Illinois, the daughter of Thomas and Estella (Bower) Woodard.  She grew up on the family farm south west of Newton, were her father taught how to work and tend the land. She was his right hand and that is where she learned to love the farm.  She would milk the cows; take care of the chickens and help work the fields.  Her first job was at the Jasper County Farm Bureau and a secretary.  Later she worked for Spencer's Dry Cleaners in Newton for 23 Years.  She was a Jasper County bus driver for several years.  In her later years she worked at E.R. Moore Cap and Gown Factory in Newton, until it closed its doors.   Betty was a 4-H leader also for many years.  She motivated many young kids to take their knowledge and use it to the fullest.
Betty lived her life according to her father's words: "Make time for God, go to Church and then work the land and God will provide."  Her Catholic faith got her through some pretty tough times in her life.
Betty was a lifelong member of St. Thomas the Apostle Catholic Church of Newton, Illinois, and was dedicated to helping any way she could.  Her faith in God made her strong enough to raise her four children on her own.  Betty loved to work in her flower and vegetable gardens.  She taught her children and grandchildren that homegrown fruits and vegetables are a gift from God and roses and flowers were God's way of smiling at us.
Betty was a master of sewing and quilting.  Over the years, she had sewn several beautiful wedding gowns, made clothes for her grandchildren and sewn several quilts.
Betty lived on the farm where she grew up at and always enjoyed raising sheep and cattle.  At the last she would stand by the window and just star gaze at the flowers and animals.  We often wondered what went through her mind.  Now we know, she was asking for God's hand.
Betty is survived by her four children:  Wanda (Norman) Kocher of Newton, Illinois; Vincent (Ellen Kay) of Redfield, South Dakota; Joseph (Debbie) Marshall of Monticello, Illinois and Theresa (Bob) Rudolphi of Newton, Illinois.  Also she leaves behind 12 grandchildren – Delores (Dusty) Johnson of Onley, Illinois; Anthony (Angie) Kocher, of Frederick, South Dakota; Keith (Kim) Kocher of Newton, Illinois; Wayne Kocher of Newton, Illinois; Janice (Travis) Baltzell of Newton, Illinois; Barrett (Kristin) Marshall of Arlington, South Dakota; Holly (John Paul "JP") Heber of Zell, South Dakota; Chad (Annie) Marshall of White Heath, Illinois; Amy Jo (Zach) Lancaster of Modesto, Illinois; Nathan Rudolphi of Noble, Illinois; Michael (Hillary) Rudlophi of Pittsboro, Indiana and Stacy (Harley) Gray of Newton, Illinois.  19 great-grandchildren – Elizabeth Cook, Michaela, Brianna and Emily Kocher; Kyle and Kayla Kocher; Dakota, Dalton and Dominic Baltzell; Wyatt and Emery Marshall; Haven and Harley Heber; Ava and Oliver Marshall; Credence, Crimson and Ryman Lancaster and Sadie Rudolphi.
Betty was preceded in death by her parents, and just recently by her sister Jean Reinhart on May 30, 2016, and her brother-in-law Chuck Reinhart on July 16, 2016.