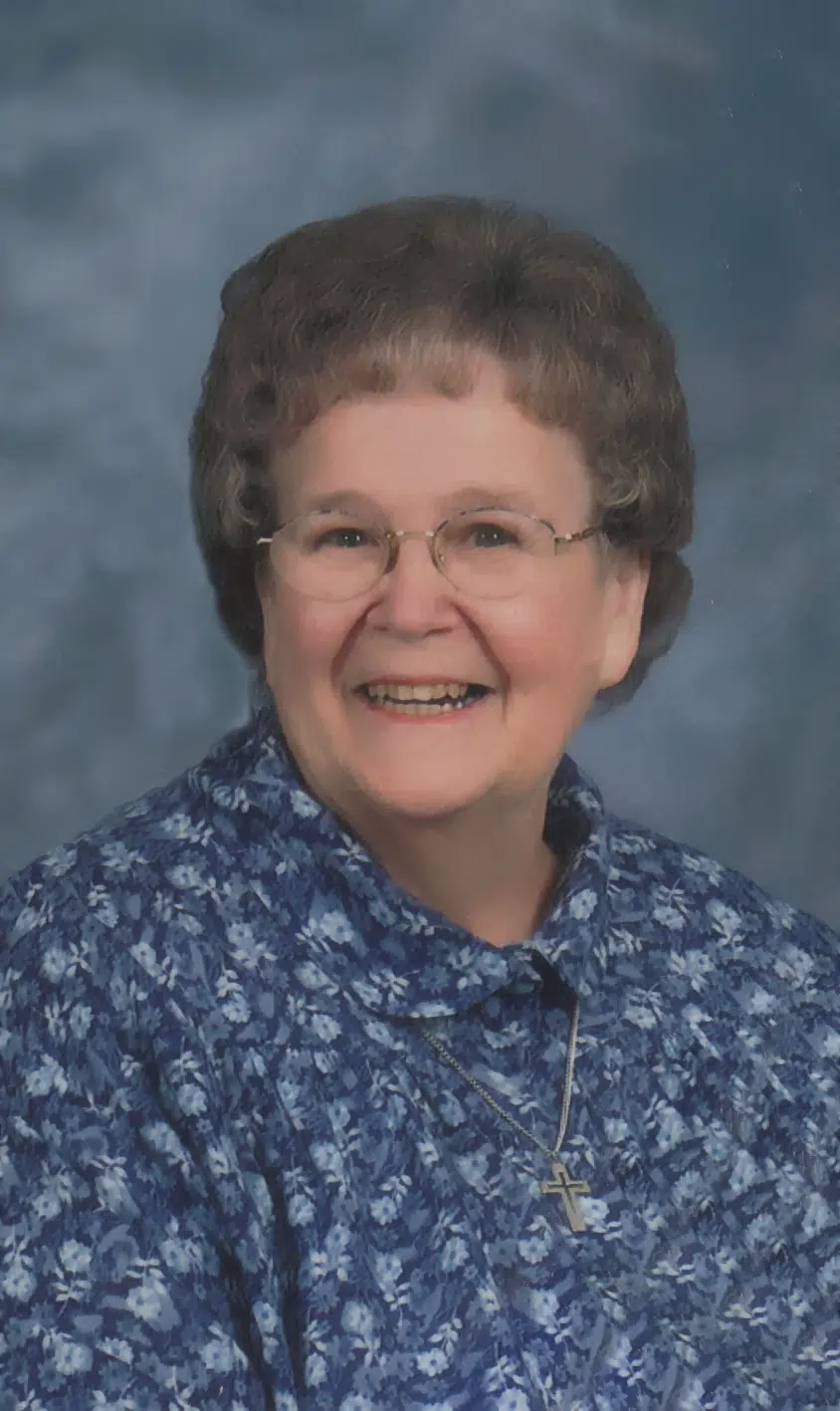 Dorothy Ann "Dot" Waldhoff, 85, formerly of Dieterich, Illinois, passed away at 6:15 A.M., Monday, July  25, 2016, in the Evergreen Nursing and Rehabilitation Center of Effingham.
Dorothy was born June  16, 1931, in Effingham, Illinois, the daughter of L. A. "Henk" and Loretta A.  (Johans) Henkelman. She married John J. Waldhoff,  April  23, 1952, in Effingham, Illinois. Dot was a member of the Immaculate Conception Catholic Church of Dieterich, IL and  presently a member of the St. Isidore, Catholic Church of Bishop Creek, also she was a member of the Ladies' Sodality, the Catholic Daughters of America, a housewife and a homemaker. Dot especially enjoyed her grandchildren.  She also loved attending Drum and Bugle Corps, sewing, making and sending greeting cards, and visiting with her family and friends. She was a loving person and she never met a stranger.
Dorothy leaves her husband John,  after sixty-four years of marriage. She also leaves, one son, Michael Waldhoff and wife Susan of Avon, IN; two daughters, Nancy Weber and husband Melvin of Teutopolis, IL and Carol O'Dell and husband Tim of Rural Neoga, IL; one brother-in-law, Clete Waldhoff and wife Karen of Teutopolis, IL; one sister-in-law, Margaret Ann Henkelman Luedke and husband John "Dick" of Charleston, IL; twelve grandchildren, fifteen great grandchildren and six step-great grandchildren; many nieces and nephews. Dorothy was preceded in death by her parents; two brothers, John "Jack" and Charles "Chuck" Henkelman; one granddaughter, Candis O'Dell.
Memorials may be made to Immaculate Conception Hall of Dieterich, IL.
Mass of Christian Burial will be held at  10:30 A.M., Thursday, July  28, 2016, in the St. Isidore,  Catholic Church in Bishop Creek, with The Rev. Fr. Bill Rooney, O.F.M. of Dieterich, IL officiating. Visitation for family and friends will be held from 5:00 P.M., to 8:00 P.M., Wednesday, July  27, 2016, in the St. Isidore, Catholic Church of Bishop Creek, with a 7:00 P.M., Rosary and a Parish Wake Service at the conclusion of visitation. Burial will be in the Immaculate  Conception Cemetery in Dieterich, IL. The Swengel-O'Dell Funeral Home of Neoga, IL is in charge of arrangements.
on line condolence may expressed at swengel-odell.com