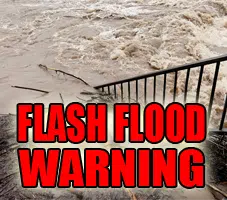 .THE FLASH FLOOD WARNING REMAINS IN EFFECT UNTIL 945 AM CDT FOR
WESTERN EFFINGHAM COUNTY...

AT 708 AM CDT...DOPPER RADAR INDICATED THUNDERSTORMS PRODUCING HEAVY
RAIN ACROSS THE WARNED AREA. UP TO TWO TO THREE INCHES OF RAIN HAVE
ALREADY FALLEN. ADDITIONAL RAINFALL SHOULD BE LESS THAN A HALF INCH.
LOCAL LAW ENFORCEMENT REPORTED LASH FLOODING IS OCCURRING ON GROVE
AVENUE AND CHERRY STREET IN EFFINGHAM. FLOODING IS ALSO LIKELY
OCCURRING ALONG LOW LYING COUNTY ROADS.

SOME LOCATIONS THAT WILL EXPERIENCE FLOODING INCLUDE...
EFFINGHAM...ALTAMONT...TEUTOPOLIS...WATSON...SHUMWAY...LAKE SARA AND
ALTAMONT RESERVOIR.

THIS INCLUDES THE FOLLOWING HIGHWAYS...
 INTERSTATE 57 BETWEEN MILE MARKERS 152 AND 167.
 INTERSTATE 70 BETWEEN MILE MARKERS 79 AND 98.

PRECAUTIONARY/PREPAREDNESS ACTIONS...

TURN AROUND...DON`T DROWN WHEN ENCOUNTERING FLOODED ROADS. MOST FLOOD
DEATHS OCCUR IN VEHICLES.

A FLASH FLOOD WARNING MEANS THAT FLOODING IS IMMINENT OR OCCURRING.
IF YOU ARE IN THE WARNED AREA MOVE TO HIGHER GROUND IMMEDIATELY.
RESIDENTS LIVING ALONG STREAMS AND CREEKS SHOULD TAKE IMMEDIATE
PRECAUTIONS TO PROTECT LIFE AND PROPERTY.