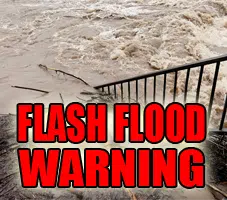 THE NATIONAL WEATHER SERVICE IN LINCOLN HAS ISSUED A

* FLASH FLOOD WARNING FOR...
  WESTERN JASPER COUNTY IN SOUTHEASTERN ILLINOIS...
  WESTERN CLARK COUNTY IN EAST CENTRAL ILLINOIS...
  SOUTHEASTERN EFFINGHAM COUNTY IN SOUTH CENTRAL ILLINOIS...
  EASTERN CUMBERLAND COUNTY IN EAST CENTRAL ILLINOIS...

* UNTIL 1000 AM CDT

* AT 706 AM CDT...DOPPLER RADAR INDICATED THUNDERSTORMS PRODUCING
  HEAVY RAIN ACROSS THE WARNED AREA. UP TO TWO TO THREE INCHES OF
  RAIN HAVE ALREADY FALLEN...WITH ANOTHER INCH OF RAIN POSSIBLE.
  FLASH FLOODING IS EXPECTED TO BEGIN SHORTLY.

* SOME LOCATIONS THAT WILL EXPERIENCE FLOODING INCLUDE...
  NEWTON...TOLEDO...CASEY...GREENUP...MARTINSVILLE...DIETERICH...
  JEWETT...WHEELER...HIDALGO...HAZEL DELL...BOGOTA...WOODBURY...
  YALE...ROSE HILL...ELLIOTSTOWN...GILA...LATONA...
  NEWTON LAKE AND UNION CENTER.

THIS INCLUDES INTERSTATE 70 BETWEEN MILE MARKERS 106 AND 141.

PRECAUTIONARY/PREPAREDNESS ACTIONS...

TURN AROUND...DON`T DROWN WHEN ENCOUNTERING FLOODED ROADS. MOST FLOOD
DEATHS OCCUR IN VEHICLES.

EXCESSIVE RUNOFF FROM HEAVY RAINFALL WILL CAUSE FLOODING OF SMALL
CREEKS AND STREAMS...COUNTRY ROADS...FARMLAND...AND OTHER LOW LYING
SPOTS.